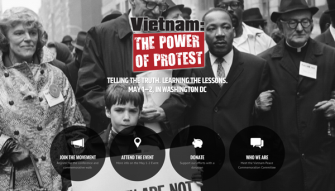 This year marks the 50th anniversary of the Vietnam Peace Movement which is being commemorated at the Vietnam: The Power of Protest convening in Washington, D.C. on May 1-2.
As conference organizers explain, "This effort began last fall in reaction to the Pentagon's plans for their own commemoration, including extensive public outreach and a false and one-sided website history of the Vietnam War that excluded the peace movement. The New York Times reported our objections on its front page. While former presidents and Pentagon officials seek to obscure the memory of what we accomplished, we will keep pushing for an accurate history of both the Vietnam War and one of our country's most important social movements." Read more about the event at the Lessons of Vietnam website.
We encourage students and teachers to attend this two-day event that includes a powerful list of speakers and moderators including:
There will be music by Peter Yarrow, Holly Near, Bethany Yarrow & Rufus Cappadocia and readings by Bill Ehrhart, Luis Rodriguez, and Judy Gumbo.
Below are resources for teaching about Vietnam and anti-war movements.