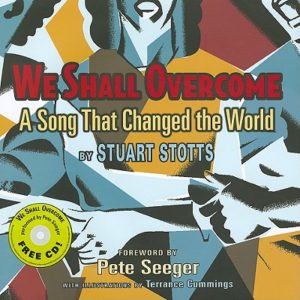 In clear, accessible language Stuart Stotts explores the roots of the tune and the lyrics in traditional African music and Christian hymns. He demonstrates the key role "We Shall Overcome" played in the civil rights, labor, and anti-war movements in America. And he traces the song's transformation into an international anthem.
With its dramatic stories and memorable quotes, We Shall Overcome: A Song That Changed the World offers a saga of a famous piece of music in a unique way of looking at social history. [Publisher's description.]
Foreword by Pete Seeger. Illustrations by Terrance Cummings.
ALA Notable Children's Book for 2011.
ISBN: 9780547182100 | Clarion Books