When WorldOregon's Young Leaders in Action (YLA) wrote this activity on climate refugees in late 2020, two hurricanes — one a Category 4 and the other a Category 5 — had recently slammed into Central America's Caribbean coast. Washington Post correspondent Delphine Schrank wrote about what she saw in San Pedro Sula, Honduras:
Blanca Costa crouched on a wooden cart with her three daughters under a highway bridge. . . . The cart was the one possession Costa was able to save when they clambered out [of their flooded house]. The three horses that pulled it, enabling her to earn money as a trash collector, were gone. It would take years, she said, to save enough to buy another one.
We don't know whether Blanca Costa and her family will become climate refugees, but these are the increasingly frequent kind of events that led the World Bank in 2018 to predict that there will be 143 million more climate migrants by 2050.
This role-play — written by high school students affiliated with WorldOregon's Young Leaders in Action program — aims to illuminate the struggles faced by climate refugees and the battle they fight to receive recognition and protection. Through the activities included here, students learn about the legal definition of refugee and a variety of situations of climate refugees across the world. Through the stories of six young people whose lives have been changed by the climate refugee crisis, students will try to imagine what it is like for a person to have "no option except escape."
WorldOregon's Young Leaders in Action is a yearlong program that engages a diverse group of 20 students from more than a dozen high schools across the Portland, Oregon, metro area in cultivating skills to become local leaders poised to take action on global issues. Through intercultural activities and leadership skills training sessions with local and international youth, community leaders, non-profit organizations, politicians, and educators, WorldOregon hopes that YLA participants develop the agency and the passion to engage in meaningful social change.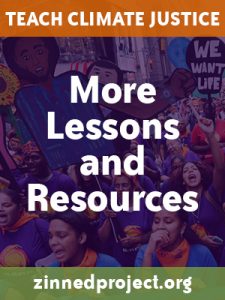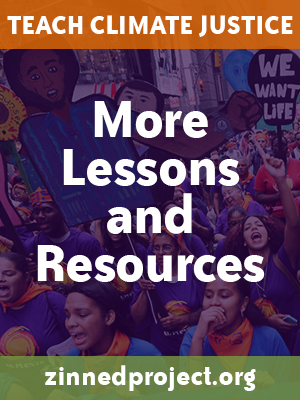 During the 2019–2020 school year, Young Leaders in Action students worked with YLA coordinator Rachel Delman and Bill Bigelow, curriculum editor of Rethinking Schools and co-director of the Zinn Education Project, to create and produce the following role-play, No Option Except Escape. The role-play is based on the lives of real people. Two of the roles are inspired by stories from the Migrant Child Storytelling site.
The authors of the lesson, all members of WorldOregon's Young Leaders in Action program, are: Leah Alper (11th grade), Jasleen Bhu (12th grade), Benjamin Connor (11th grade), Pearl Cook (12th grade), Lizzi Flumo (12th grade), Charlie Hatcher (11th grade), Ragheeb Hoque (10th grade), Liyu Huang (11th grade), Yousif Ibrahim (11th grade), Mahmood Jawad (11th grade), Maya Joiner (11th grade), Ashley Lin (11th grade), Amanda Rau (11th grade), Tasneem Sarkez (12th grade), Ella Shin (11th grade), Maya Sonpatki (12th grade), Sophia Stedman (10th grade), Nathan Stein (12th grade), Kiran Weasel (12th grade), and Jessica Woolfolk (12th grade).
How should the world respond to the climate refugee crisis? What happens when climate refugees have "No Option Except Escape?" Ss are role-playing and sharing their experience at an international convention of fellow climate refugees. Thanks @ZinnEdProject #TeachClimateJustice pic.twitter.com/1y9jfAO1ZT

— Brett Benson (@MrBensonNMS) January 28, 2021