The climate crisis is a global emergency that requires, in the words of UN scientists, "unprecedented changes in all aspects of society." Or as Greta Thunberg, founder of the global student strike for climate movement, says, "We can't save the world by playing by the rules, because the rules have to be changed. Everything needs to change, and it has to start today."
For educators, this means it is no longer enough for our students to simply understand the science of climate change, or how the climate crisis currently affects people and places around the world.
If we focus only on the causes and effects of the climate crisis, then we miss out on the story of students organizing school strikes for climate across Australia and Europe. We miss out on how protests at Standing Rock have inspired a generation of new activists, including Alexandria Ocasio-Cortez. We miss out on the imaginative responses to the climate disaster that have grown out of communities across the world such as Casa Pueblo in Puerto Rico.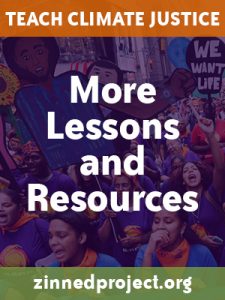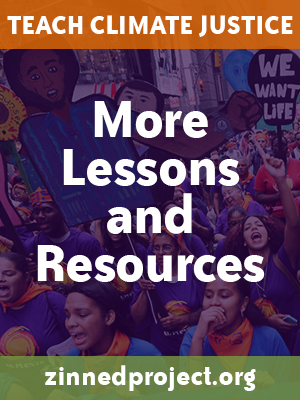 We wrote this mixer to highlight some of the stories of climate justice activists, especially young people, who are organizing toward climate action. We chose roles that bring together various strands of the climate justice movement, and that highlight the broad coalition of groups are working toward the goal of a just transition — including people who students might not recognize as climate activists.
By bringing the story of the climate justice movement to our classrooms, we create an opportunity for our students to begin to see themselves as part of this movement — as activists — capable of creating the change that so often feels out of reach. Download lesson.
---
Mixer Roles
Eve Miller, Humanitarian Enterprise of Loving People, St. James, Louisiana
Justin Guariglia, Climate Signals, New York
Harry Smiskin, Yakama Tribal Council Chairman, Toppenish, Washington
Elizabeth Thiel, Portland Association of Teachers (PAT), Oregon,
Jeff Ruch, Public Employees for Environmental Responsibility, Washington, D.C.
Doria Robinson, Urban Tilth, Richmond, California
Sylvia McAdam Saysewahum, Idle No More, Canada
Jackson Koeppel, Soulardarity, Detroit
Victoria Barrett, Our Children's Trust, Eugene, Oregon
Alexandria Ocasio-Cortez, U.S. House Representative, New York
Mishka Banuri, Utah Youth Environmental Solutions, Salt Lake City
Jared Smith, International Longshore and Warehouse Union, Local 4, Vancouver, Washington
Khanh Pham, Asian Pacific American Network of Oregon

Simmone Ahiaku, People & Planet, United Kingdom
Henry Red Cloud, Lakota Solar Enterprises, South Dakota
Joanna Sustento, Typhoon Haiyan Survivor, the Philippines
Patti Snyder, Oakwood Beach Buyout Committee, New York
Lucie Atkin-Bolton, Australia School Strikes 4 Climate Action, Sydney
Greta Thunberg, School Strike 4 Climate, Sweden
Katie Carbonara, Sunrise Movement
Arturo Massol-Deyá, Casa Pueblo
Jacqueline Patterson, NAACP Environmental and Climate Justice Program
Xiuhtezcatl Martinez, Earth Guardians and Our Children's Trust
LaDonna Brave Bull Allard, Standing Rock Sioux Tribe, North Dakota
Winona LaDuke, Honor the Earth, Minnesota
Kathy Jetñil-Kijiner, Poet and Educator, Marshall Islands
Hannah Jones, Swarthmore Mountain Justice, Pennsylvania
Linda Garcia, Stand Up to Oil, Vancouver, Washington
---
Classroom Story
---
Note: The teachers who wrote this lesson would like feedback from fellow teachers in the Zinn Education Project community before it is finalized. 
Send your feedback after using the lesson to: www.zinnedproject.org/share-your-story You will receive a climate justice book in appreciation.
We will alert you once the authors have received enough feedback to make revisions and to post this lesson in our standard layout.
---

---
Find more stories of climate justice activists in the Teen Vogue (January 3, 2020) article, 9 Climate Activists of Color You Should Know.