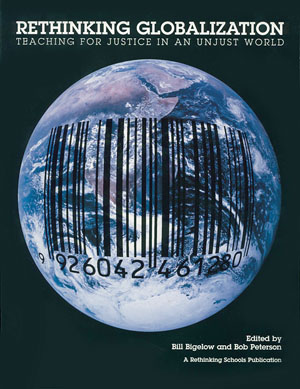 This comprehensive book from Rethinking Schools helps teachers raise critical issues with students in grades 4 — 12 about the increasing globalization of the world's economies and infrastructures, and the many different impacts this trend has on our planet and those who live here.
Rethinking Globalization offers an extensive collection of readings and source material on critical global issues, plus teaching ideas, lesson plans, and rich collections of resources for classroom teachers.
See the Table of Contents with readings from the book.
Rethinking Globalization is a breathtakingly rich collection of essays, photos, cartoons, poems providing an extraordinary one-volume education on wealth, poverty, corporate power, and popular resistance in the contemporary world. . . I can think of no other book that teaches so much, so engagingly. —Howard Zinn, author of A People's History of the United States
This volume moves us past provincialism and toward the hard work of educating students and teachers to be active and responsible global citizens. This is a simultaneously wonderful and disturbing text — exactly what we need right now. —Gloria Ladson-Billings, professor at the University of Wisconsin-Madison and author of The Dreamkeepers.
Having been a high school teacher in Japan, one resource that I have returned to repeatedly is Rethinking Globalization. [The book] offers an extensive collection of readings and source material on critical global issues. Through numerous role plays, interviews, poems, stories, background readings, cartoons, and hands-on teaching activities, the book offers a memorable introduction to the forces that are shaping the future of our world. —Mitch Teberg, MA
ISBN: 9780942961287 | Rethinking Schools