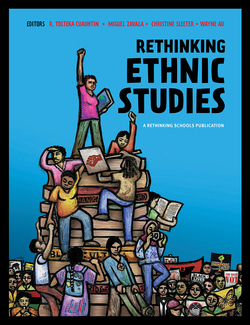 As part of a growing nationwide movement to bring Ethnic Studies into K–12 classrooms, Rethinking Ethnic Studies brings together many of the leading teachers, activists, and scholars in this movement to offer examples of Ethnic Studies frameworks, classroom practices, and organizing at the school, district, and statewide levels. Built around core themes of indigeneity, colonization, anti-racism, and activism, Rethinking Ethnic Studies offers vital resources for educators committed to the ongoing struggle for racial justice in our schools.
Introduction Excerpt
At a Seattle School Board meeting, students, teachers, and parents held signs reading "Teach Us Real History," "Decolonize Seattle Public Schools," and "Ethnic Studies Is the Truth." In Portland, Oregon, students yelled, "Fists up, everyone!" and cheered as the Portland Public School Board passed a resolution in support of Ethnic Studies. Students descended on the California State Capitol in Sacramento to testify about how Ethnic Studies taught them about their histories and cultures and encouraged them to perform well in schools. In Providence, Rhode Island, student activists rallied for Ethnic Studies outside the Providence School Department, with one speaker proclaiming, "I deserve an education that makes me feel powerful." In Texas, as the State Board of Education was considering the adoption of Ethnic Studies, student and community activists rallied with signs reading "We Are MAS [Mexican American Studies] Students, Hear Us Roar!"
On the heels of the banning of Ethnic Studies in Arizona in 2011 and atop a wave of California school districts making Ethnic Studies a graduation requirement, a movement has been unleashed in the United States. It is a powerful movement for K–12 Ethnic Studies that has sprung from students, teachers, and community activists seeking to transform curriculum and teaching into tools for social justice in public schools. Continue reading.
ISBN: 9780942961027 | Rethinking Schools
Today in #EthnicStudies, students shared their Community Cultural Wealth projects. Using the assignment from @RethinkSchools book, students wrote narratives to tell about the cultural wealth their communities hold. Among the creations were poems, art, + even a few short books! pic.twitter.com/eQFpkD24Mh

— Hayley Breden (@HayleyVatch) September 3, 2019