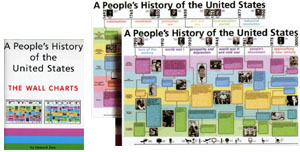 A set of two poster-sized timelines and an explanatory booklet based on A People's History of the United States.
Illustrated in full color, they portray over five hundred years of U.S. history. Organized thematically as well as chronologically, they allow the reader to trace the developments of specific topics through images and quotations that go well beyond the wars and presidencies of traditional American history.
Book + 2 posters, 13.75″ x 9.5″.
ISBN: 9781565841710 | The New Press