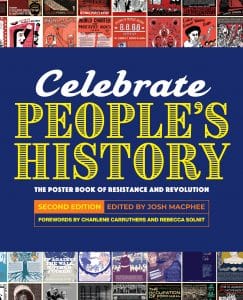 Since 1998, Josh MacPhee has commissioned and produced over one hundred posters by over eighty artists that pay tribute to revolution, racial justice, women's rights, queer liberation, labor struggles, and creative activism and organizing. Celebrate People's History (second edition) presents these essential moments — acts of resistance and great events in an often hidden history of human and civil rights struggles — as a visual tour through decades and across continents, from the perspective of some of the most interesting and socially engaged artists working today.
Featured artists include Miriam Klein Stahl, Swoon, Cristy C. Road, Bishakh Som, Sabrina Jones, Nicole Schulman, Christopher Cardinale, Eric Drooker, Klutch, Carrie Moyer, Laura Whitehorn, Dan Berger, Ricardo Levins Morales, Chris Stain, and more.  [Publisher's description.]
Introduction by Charlene Carruthers and a foreword by Rebecca Solnit.
ISBN: 9781558616776 | Feminist Press
Celebrate People's History Poster Series
Looking for people's history posters for your classroom or community space? Many of the posters featured in the book can be ordered in as 11″ x 17″ prints. Learn more at Justseeds Artists' Collective website.