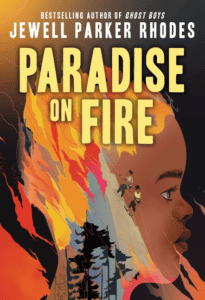 Adaugo — Addy — is originally from Nigeria. She was orphaned when her parents died in a fire and came to live with her Grandma Bibi in the Bronx.
We come to admire and love the remarkable Addy as we join her summer sojourn to Wilderness Adventures in northern California, with other African American teenagers from New York and New Jersey — not all of whom are as delighted to be there as is Addy. Addy is obsessed with maps and mazes — escape routes. She finds a home in the forest — and, gradually, a community with other young people. A summer paradise. And then there is fire.
Prompted by the 2018 Camp Fire that burned more than 150,000 acres and almost completely destroyed entire communities, including Paradise, California, author Jewell Parker Rhodes' gently paced novel segues into a thrilling narrative, in which Addy and friends attempt to escape the conflagration.
Wildfires have joined the terrible pantheon of climate-change produced disasters. The tense and perilous trek of the young people of Paradise on Fire becomes a metaphor for what all of us will need to confront the climate crisis: bravery, imagination, tenacity, solidarity.
As Addy concludes: "See the whole. Map the whole. Hard doesn't mean impossible." [Description from Rethinking Schools.]
Teachers who share their "teaching climate justice" stories at the Zinn Education Project can receive a free copy of Paradise on Fire.
ISBN: 9780316493857 | Little Brown