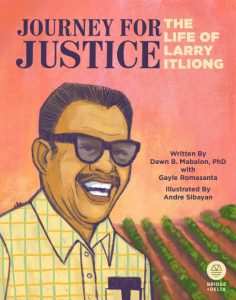 This book, written by leading Filipino American historian Dawn Bohulano Mabalon, PhD with writer Gayle Romasanta, richly illustrated by Andre Sibayan, tells the story of labor leader and co-founder of the United Farm Workers Larry Itliong's lifelong fight for a farmworkers union, and the birth of one of the most significant American social movements of all time, the farmworker's struggle, and its most enduring union, the United Farm Workers.
This is the first book written about Larry Itliong and the first nonfiction illustrated Filipino American history book for children. [Publisher's description.]
ISBN: 9781732199323 | Bridge & Delta Publishing
Smithsonian Folklife Interview
The Smithsonian Center for Folklife interviewed Romasanta, co-author of Journey for Justice, in 2019. In this film, Romasanta shares some of the history of the Filipino American civil rights leader. Read about the book and that history in her article at Smithsonian magazine.
Learn More