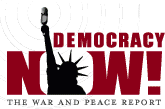 "In our judgment, this is the best Monday-through-Friday news broadcast in the United States. The news headlines that open each hour are a rundown of vital stories often ignored or distorted in the mainstream media. Headlines are followed by several in-depth reports, many of which make ideal classroom viewing: striking fast-food workers, conflict in Egypt, NSA revelations, stop-and-frisk policing, the true history of the 1963 March on Washington, drone strikes, the Trayvon Martin tragedy, the climate crisis, and more." — Rethinking Schools
Democracy Now!'s War and Peace Report provides listeners with access to people and perspectives rarely heard in the U.S.corporate-sponsored media, including independent and international journalists, ordinary people from around the world who are directly affected by U.S. foreign policy, grassroots leaders and peace activists, artists, academics and independent analysts. In addition, Democracy Now! hosts real debates — debates between people who substantially disagree, such as between the White House or the Pentagon spokespeople on the one hand, and grassroots activists on the other.
The program provides background information for teachers and parents. In addition, segments of the program could be used in middle and high school classrooms.
Available in Spanish.