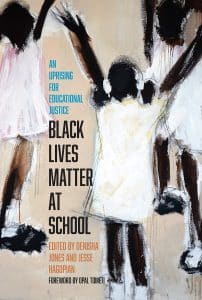 Black Lives Matter at School offers the wisdom of lessons learned through the Black Lives Matter at School movement, which began at one school in 2016 and has since spread to hundreds of schools across the country. This book will inspire many hundreds or thousands of more educators to join the BLM at School movement at a moment when this antiracist work in education could not be more urgent.
Contributors include Opal Tometi who wrote a moving foreword, Bettina Love who has a powerful chapter on abolitionist teaching, Brian Jones who writes about centering Black Lives Matter at School in the historical context of other struggles for racial justice in education, and several prominent teacher union leaders from across the United States who discuss the importance of anti-racist struggle in education unions. The book includes also features essays, interviews, poems, and resolutions by educators, students, and parents around the country who are building the Black Lives Matter at School movement from the ground up in their own schools.
Book Trailer
Haymarket Book Talk
Jesse Hagopian and Denisha Jones, moderated by Brian Jones. On December 2, 2020.
ISBN: 9781642592702 | Haymarket Books