In this book, editors Anthony Arnove and Haley Pessin, curate voices of resistance and hope from 2000 to the present, inspired by the original Voices of a People's History of the United States.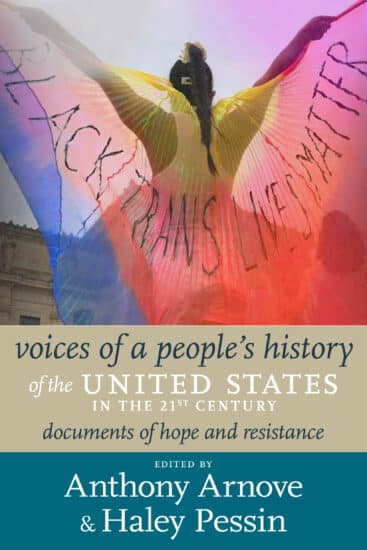 The book features speeches, essays, songs, and documents from Black Lives Matter, #MeToo, indigenous struggles, the environmental movement, disability justice organizers, and frontline workers during the global pandemic who spoke out against the life-threatening conditions of their labor.
Gathering 120 documents from across the country and including contributions from Angela Y. Davis, Naomi Klein, Keeanga-Yamahtta Taylor, Ayo Tometi, Colin Kaepernick, Walter Mosley, Viet Thanh Nguyen, Amy Goodman, Nick Estes, Linda Sarsour, Marc Lamont Hill, Eve Ensler, Rebecca Solnit, Rev. William Barber and others, this book offers resources of hope for those seeking to understand our recent history so they can better understand how to change it. [Adapted from publisher's description.]
ISBN: 9781644212974 | Seven Stories Press
---
Listen to this Democracy Now! interview with editors Haley Pessin and Anthony Arnove as they discuss the significance of the book and hear featured readings from the text.