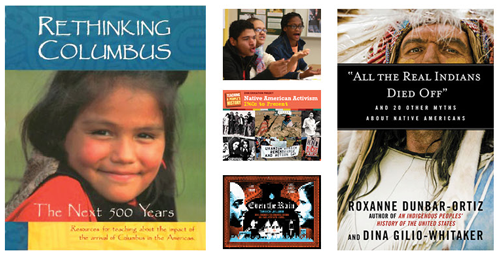 Here are lessons, books, and films for teaching the truth about Columbus and Indigenous Peoples' history.
Learn more at the Abolish Columbus Day campaign page.
Discovering Columbus:
Re-reading the Past


How to engage students in a critical analysis of the textbook version of "discovery."

The People vs. Columbus, et al.
Role play in the form of a trial to determine who is responsible for the death of millions of Taínos on the island of Hispaniola in the late 15th century. Roles available in Spanish.
The Cherokee/Seminole
Removal Role Play
Role play on the Cherokee-Seminole
removal or Trail of Tears.
Andrew Jackson and
the "Children of the Forest"
A lesson in which students develop critical literacy skills by responding to Andrew Jackson's speech on "Indian Removal."
'Don't Take Our Voices Away':
A Role Play on the Indigenous Peoples' Global Summit on Climate Change
A role play that asks students to develop a list of demands to present to the rest of the world at a climate change meeting.
Standing with Standing Rock: A Role Play on the Dakota Access Pipeline
A role play that helps students recognize the issues at stake in the historic struggle of the Standing Rock Sioux to block construction of the Dakota Access oil pipeline.
Christopher Columbus:
No Monuments for Murderers
Why we should challenge the fundamental structures of ownership, power, and privilege that have given us such a skewed constellation of heroes and holidays.

Truth-Telling in American History: Groups Fight for Indigenous Peoples' Day
Discusses Indigenous Peoples' Day campaigns and the resistance/challenges to overcome.
Italian Americans Who
Fought for Justice

Brief bios of people of Italian heritage who were committed to social justice.

Native American Activism:
1960s to Present
Brief overview and Native American activism since the late 1960s.
Rethinking Columbus:
The Next 500 Years
Readings and lessons for grades 5 to 12 about the impact and legacy of the arrival of Columbus in the Americas.
"All the Real Indians Died Off": And 20 Other Myths About Native Americans
Deconstructs persistent myths about American Indians rooted in fear and prejudice—an astute and lively primer of European-Indian relations.
Christopher Columbus and the Conquest of Paradise
Very detailed, with extensive quotes from far-ranging original sources. Links Columbus's legacy to environmental degradation.
Columbus: His Enterprise
A biography that gives a true account of Columbus' life and voyages.
An Indigenous Peoples' History of the United States
Four hundred years of Native American history from a bottom-up perspective.
A People's History of the United States
A groundbreaking work on U.S. history. This book details lives and facts rarely included in textbooks—an indispensable teacher and student resource.

An Indigenous Peoples' History of the United States for Young People
The original academic text is fully adapted by renowned curriculum experts Debbie Reese and Jean Mendoza, for middle-grade and young adult readers.
Contrasting views and scenes from the classroom on teaching about Columbus.

Columbus in America

Documentary on the symbol of Columbus in the United States and the campaign for Indigenous Peoples' Day.

As a crew shoots a film about Columbus' genocide, local people in Cochabamba, Bolivia rise up against plans to privatize the water supply.

Native American history through the eyes of Native American children.

Necessity: Oil, Water, and Climate Resistance
Pilot for a series on direct action for the climate, the film explores the work of attorneys, valve turners, and other water protectors in Minnesota.

An 1839 assassination of a Cherokee leader and a 1999 murder case – two crimes nearly two centuries apart provide the backbone to an upcoming 2019 Supreme Court decision that will determine the fate of five tribes and nearly half the land in Oklahoma.
Critical perspectives of Indigenous peoples in children's books, the school curriculum, popular culture, and society-at-large.

In-depth coverage of Native American news.

An active and visible component of the Smithsonian Institution.
More at the Zinn Education Project

Abolish Columbus Day Campaign
Resources on Native Americans
Resources on Colonization
---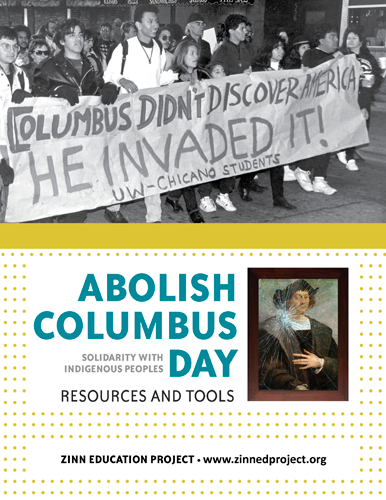 Many of these resources are featured in the Abolish Columbus Day packet which is available to download. The 14-page packet includes articles, sample resolutions, and a poster. Read more at www.zinnedproject.org/abolish.