From #MeToo to the Movement for Black Lives to the victorious West Virginia teachers' strike, women continue to be on the front lines fighting for justice.
Below we provide some classroom resources to teach women's history — not just for the month of March, but for the entire year. Today, as women are rising up around the world, we need a curriculum that helps us elevate the specific contributions women have made to people's history. In the New York Times, labor journalist Sarah Jaffe wrote about the impact this kind of teaching had on one West Virginia striker:
Leah Clay Stone grew up in the shadow of Blair Mountain, the site of the largest of the 1920s West Virginia coalfield labor uprisings. In school, she recalls doing a project on Mary Harris Jones, known as Mother [Jones], the labor agitator. She walked picket lines with her parents, a schoolteacher and a miner, as a child. Along with nearly every other teacher in West Virginia, since Feb. 22, she's been on strike.
Amanda Howard Garvin, an elementary school art teacher in Morgantown, said in the New York Times, "There are a bunch of men sitting in an office right now telling us that we don't deserve anything better." She added that in the wake of Donald Trump's election women across the country are standing up to say: "No. We're equal here."
Related Resources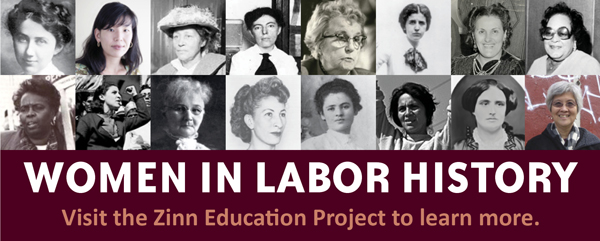 The impact women have made in labor history is often missing from textbooks and the media, despite the numerous roles women have played. From championing better workplace conditions to cutting back the 12-hour day to demanding equal pay across racial lines, these are just a few of the women who have contributed to the labor movement.

Seneca Falls, 1848:
Women Organize for Equality

A role play that allows students to examine issues of race and class when exploring both the accomplishments and limitations of the Seneca Falls Convention.

Download lesson

.

Lawrence, 1912:
The Singing Strike

A role play where students explore some of the actual dilemmas faced by strikers in Lawrence, Mass., in 1912.

Download lesson

.

Berta Cáceres:
Environmental Organizer

Overview and related resources about Honduran environmental activist Berta Cáceres.

Read more

.

Asian Americans and Moments
in People's History

Brief profiles of people and events from Asian American and Pacific Islander people's history.

Read more

.

Barbara Rose Johns:

Student Activist

Illustrated book about a teenager who led a student walk out to protest substandard conditions at a Virginia high school in 1951.

Learn more

.