Last week, the Trump administration ordered government agencies to cancel spending on "un-American propaganda training sessions." According to the memo that outlined the order, these un-American trainings can be identified by their inclusion of "critical race theory" or "white privilege," or if they teach that "the United States is an inherently racist or evil country."
This Orwellian order was followed up the next day by the president (once again) tweeting angrily about The 1619 Project — this time because he got word that schools are incorporating the Project into course curricula.
The struggle to define the past — and specifically the history of white supremacy in the United States — is not new. In his groundbreaking Black Reconstruction, W. E. B. Du Bois wrote of the "propaganda of history," where truth was sacrificed to "the defense of white men" and to "buttress a lie." The stakes, wrote Du Bois, could not be higher: "to establish Truth, on which Right in the future may be built."
We are in the midst of an ongoing rebellion against white supremacy, a pandemic that disproportionately hurts people of color, and devastating weather events caused by the elites' unchecked exploitation of the Earth (including its peoples). Now is no time to back down from teaching the truth. As Du Bois wrote, our future depends on it.
Learn more about the Zinn Education Project campaigns to bring people's history — not state propaganda — to young people across the country.
---
Teach the Black Freedom Struggle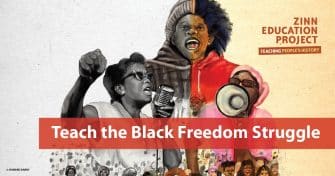 The Teach the Black Freedom Struggle campaign of the Zinn Education Project (coordinated by Rethinking Schools and Teaching for Change) supports teachers with free lessons for teaching about racism and anti-racist struggles, distribution to school districts of the book Teaching for Black Lives, teacher study groups, a podcast, online classes for teachers, and more.
---
Teach Reconstruction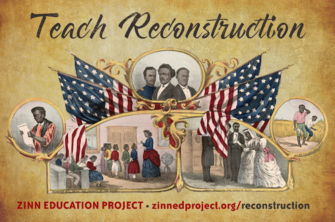 Reconstruction, the era immediately following the Civil War and emancipation, is full of stories that help us see the possibility of a future defined by racial equity.
We offer lessons and a local history mapping project to make Reconstruction history visible. We also offer resources to teach about the ongoing struggle for voting rights on this 150th anniversary year of the 15th Amendment.
---
Teach Climate Justice
The climate crisis threatens our students' lives. And yet, throughout the United States, schools have failed to put the climate at the center of the curriculum.
How do we teach the climate crisis in a way that also confronts racism, economic inequality, misogyny, militarism, xenophobia, and that imagines the kind of world that we would like to live in?
To address this gulf between the climate emergency and schools' inadequate response, the Zinn Education Project has a campaign to Teach Climate Justice. We offer classroom-tested lessons, workshops for educators, and a sample school board climate justice resolution.
---
Artwork on shared post, "Study History" is by Ricardo Levins Morales.