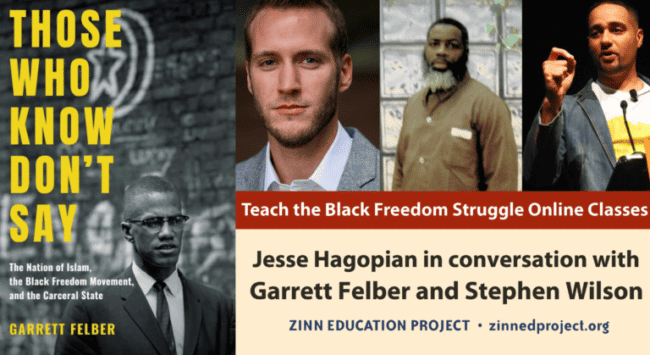 Scholar and activist Garrett Felber, along with incarcerated prison abolitionists Michael "Safear" Ness and Stevie Wilson, joined the Zinn Education Project online on April 26, 2021 for a conversation about the growth of the prison industrial complex and resistance movements. Educator and teacher organizer Jesse Hagopian, editor of Teaching for Black Lives and Zinn Education Project staff member, facilitated the conversation. Wilson and Safear responded to questions via pre-recorded interviews. Audio clips and transcripts offered below.
This online history class is part of the Teach the Black Freedom Struggle campaign.
Participant Reflections
Here are a few reactions from participants. There are many more below.
Over 2 million people are incarcerated in the United States, yet within school students minimally learn about the prison system and the life of an incarcerated person.
As a teacher educator, I want to consider ways to support my future teachers in thinking about how many students/children may be impacted by a loved one who is incarcerated.
Thank you — I was exhausted after a long day and almost didn't make it in time. I am so glad I did — I am leaving with more energy and enthusiasm than I started with. That is always a good sign of a great learning opportunity. Thank you!
It was so impactful and I truly felt privileged to hear from folks who are imprisoned. I didn't expect this from the session but I should have known that ZEP would not and could not discuss such a topic without giving voice to those most directly impacted by the prison industrial complex! I relished learning about a topic that's rarely discussed or taught. Thank you!
During the session we posted a poll on what people learned about incarceration. More than half of attendees had no education on the topic in K-12.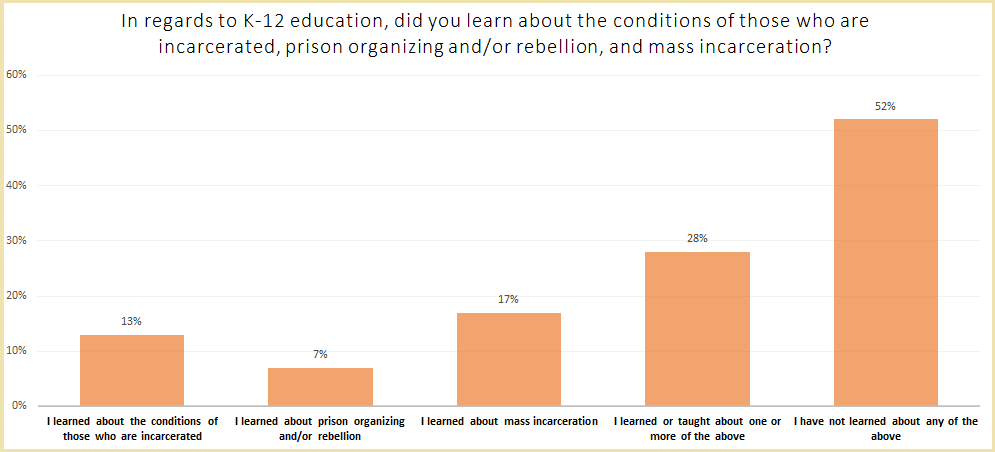 Find highlights of the session, interview transcript, a video recording of the class (except breakout room segment), recommended resources, and more participant feedback.
Highlights
Here are some main points of the session from the tweet thread by Ursula Wolfe-Rocca, high school teacher and Zinn Education Project team member.
Dr. Felber: What happens when we put the NOI at the center of the mid-century Black Freedom Struggle? 1. It helps us see the central role of Black nationalism in bridging different eras of the struggle.

— Ursula Wolfe-Rocca (@LadyOfSardines) April 26, 2021
Wilson: What would I want them to know about people in prison? What I want them to know is there are people inside them. That we are people. Human beings. Inside a prison. I think that is lost much of the time.

— Ursula Wolfe-Rocca (@LadyOfSardines) April 26, 2021
Also Dr. Felber encourages of K-12 folx to make justice-seeking vocabulary/concept lessons based on the difference between harm v. crime & accountability v. punishment.

— Ursula Wolfe-Rocca (@LadyOfSardines) April 27, 2021
---
Video
Video of the full event, except the breakout sessions.
---
Additional Resources
Here are many of the resources recommended by the presenters and also by participants.
Lessons and Curricula

What We Don't Learn About the Black Panther Party — but Should

"Riots," Racism, and the Police: Students Explore a Century of Police Conduct and Racial Violence

Teaching Social Activism in Prison: The Leap Manifesto and Incarcerated Youth

Attica Prison Uprising Resource List

If You're New to Abolition: Study Group Guide

Related Books and Articles

A People's History of Muslims in the United States: What Textbooks and the Media Miss

All Our Trials by Emily Thuma

Chained in Silence by Talitha LeFlouria

Dreaming Freedom, Practicing Abolition Blog, featuring Stevie Wilson and others.

"Imagining a New World Without Cages": Interview with Stephen Wilson by Dan Berger

Invisible No More – Police Violence Against Black Women by Andrea Ritchie, with intro by Angela Davis

Rethinking the American Prison Movement by Dan Berger and Toussaint Losier

See more books on the Social Justice Books Incarceration list, including Missing Daddy by Mariame Kaba.

Films

Abolition 101 taught by Orisanmi Burton.

Defund Police by Project NIA

Malcolm X: Make It Plain by Steve Fayer and Orlando Bagwell

Slavery by Another Name by Sam Pollard, Catherine Allan, Douglas Blackmon, and Sheila Curran Bernard

Projects and Organizations

Books Through Bars Sends books to incarcerated people across the nation at no cost to them.

Free Ashley Diamond Campaign to free Ashley Diamond, a Black and trans woman, from prison while raising awareness about the prison industrial complex.

Free Minds Book Club & Writing Workshop Uses the literary arts to connect incarcerated and formerly incarcerated youths and adults with community.

The Jericho Movement Raises the voices of political prisoners and works for their amnesty and freedom.

Project NIA Works to end the arrest, detention, and incarceration of children and young adults by promoting restorative justice practices.

Photo Requests From Solitary (SolitaryWatch.org) Invites people held in solitary to request a photo and finds an artist to fulfill the request.

RAPP: Release Aging People in Prison Campaign Works to end mass incarceration through the release from prison of older people.

Study and Struggle Coordinates resources to fight criminalization and incarceration in Mississippi.

Podcasts

Millennials are Killing Capitalism

Rustbelt Radio: "Abolitionist Study with Steve Wilson"

Throughline: "American Police"

This Day in History
---
Q&A with Stevie Wilson and Safear Ness

Here are responses to Jesse Hagopian's questions (JH), sent in advance by Stevie Wilson (SW). Safear Ness' answers are further down.
JH: Stevie, you are imprisoned at SCI-Fayette, a prison located on a toxic waste dump south of Pittsburg, and you have been a vocal critic of the Pennsylvania Department of Corrections' weak response to the outbreak of COVID-19. Can you tell us about your experience working to raise money for hygienic products for imprisoned people to slow the spread of COVID? Could you talk about the relationship between the environmental racism of where the prison is located and the racism of the response to this public health crisis?
SW
: First, the fact that we had to raise funds is an issue. The Pennsylvania Department of Corrections (PA DOC), even during COVID, does not provide prisoners the necessary hygiene products. So we had to step into that gap. The work we had done with the study groups provided a solid base for doing the mutual aid work. Our outside allies quickly mobilized and responded to the need for funds. And we are grateful they did.
COVID created an opportunity for the work to increase. Prisoners displayed a much more cooperative mindset than usual. We understood that we needed each other and our allies to survive the pandemic. So there has been something positive out of this pandemic: more connections between prisoners and their allies.
The PA DOC, like most Departments of Corrections in the United States, wants to monopolize the flow of information between the walls. So whenever a prisoner talks about what is really happening behind these walls, he or she becomes a target for repression. It is expected.
Ruthie Wilson Gilmore writes about the real connection between where many incarcerated folks are drawn from and where we are deposited. Both of these sites have similar characteristics that organizers and activists within them fail to grasp. Instead of creating strategic coalitions to fight against environmental injustice, they often go it alone. The State Correctional Institution at Fayette (SCI Fayette) is located in LaBelle, Pennsylvania. The prisoners as well as the residents of the town experience much higher rates of cancer, respiratory problems and skin ailments. But they haven't joined forces. The work would be more effective if they did. Both populations are suffering. And the culprit is the same.
JH: Can you talk about the terminology related to the prison industrial complex?
Crime
SW: We rarely use the word "crime" in our work. We understand crime to be a social construct: something those in power in a society deem criminal for the time being. We know that what is criminal depends upon who, what, where and how.
We know that a Black person learning to read was once a crime here. So were simple things like standing on a corner in a southern state. So we understand how the category crime is used to control people and produce certain outcomes favorable to those in power.
We also understand harm to be something much broader and experienced and perpetrated by everyone. We know that people are harmed in many ways that are not considered criminal. We understand how our environment is repeatedly harmed and no one is held accountable. I believe if people began to think about harm and nix crime, we will be able to make headway in creating truly safer communities.
If we all become more aware of the ways we harm others everyday, and work to eliminate these practices, our world will be more equitable. This produces better relations, which produces safety.
Also, we must be aware of the ways the media hypes crime, creates criminals and naturalizes the Prison Industrial Complex (PIC) Recently, I asked people to flip through their TV channels and count the number of programs that focus on crime, courts, police, or incarceration. You would be surprised at the number of programs being pushed our way that legitimize the PIC. This is part of cultural criminalization.
Policing
SW: Here's the point: more police equals more crime. Whenever and wherever police presence increases, the number of arrests increases too. This is the only correlation supported by data. Crime and incarceration rates don't correlate. In this country, crime rates fell, but incarceration rates rose. Why? Because there were more cops in the streets, occupying urban neighborhoods. You know why the arrests and crime rates are lower in the suburbs? Because police presence is lower.
I would like the students to think about what is happening and has recently happened regarding protests and the state's response to them, especially the difference when Black folks protest and White folks form an insurrection.
I think they can clearly grasp whom law enforcement is focused on and has always been focused on. I think they can understand the state's reaction to any questioning of its monopolies on violence and its authority to eliminate those that challenge its oppression or those who are expendable within its plan for global domination.
Why are the people protesting? Why is law enforcement responding the way it is? Who is being served? Who and what is being protected?
JH: What did you learn — or not learn — about the Black Freedom Struggle in school? What moments of the Black Freedom Struggle have you learned about that you take the most inspiration from today?
SW: In school, I didn't learn much about the Black Freedom Struggle. I learned about the Civil Rights Movement, but it was presented as the heroic efforts of a few cis-het men, not a mass movement. It wasn't until I was incarcerated that my knowledge of the Black Freedom Struggle and its many participants become known. And this was through study, not the Department of Corrections.
 JH: What should teachers and students know about prisons and the people inside them?
SW: I want teachers and students to know that there are people, human beings, in prison. This obvious fact is often and purposely obscured by the media and politicians. We are mothers, fathers, sons, daughters, brothers, sisters, aunts, uncles, nieces, nephews, cousins, husbands, wives, lovers and friends. And we deserve respect like anyone else.
Like other humans, we are imperfect. We have harmed others and have been harmed. But exiling and caging humans will not decrease harm or produce safety. In fact, it creates more harm. In the short and long term.
JH: What does being a prison abolitionist mean to you? How did you come to be an abolitionist?
SW: I am a penal abolitionist. I want to see the elimination of the prison industrial complex. I want to end all systems of domination and oppression. I want to build a world in which the dignity of everyone is upheld.
I worked in human services for a long time, specifically HIV education and prevention. For so long, I was frustrated by the lack of real results, real material changes, in the lives of the people we were supposedly advocating for and serving. No matter what I did to remedy things, the system thwarted me. It couldn't be reformed. I gave up. When I was introduced to abolitionist theory, I realized the system was the problem. I had never imagined solving these or any problems outside of the established systems. When I understood that we could, and that people already were, not only challenging the systems, but also creating other ways of caring, living, and relating, outside of the oppressive systems in this culture, I knew this was for me. I found home.
JH: Tell us about the different study groups you are a part of and their relationship to the organizing work you do.
SW: The largest group is the 9971 study group (Ask them if they know why it's named 9971). It's an abolitionist study group. It's the door for many people new to the work.
SASS (Smithfield Abolitionist Study Squad) was started as a space where queer and trans incarcerated folks could study abolition and apply it to the particular lived experiences of queer and trans folks.
Circle Up is a transformative justice study and healing circle Book Club. We have been fortunate to connect with book publishers, including Haymarket and UNC Press, who support are political education efforts inside by providing books to members. We hope to expand this project. Usually, the book clubs have 10 members.
All of the study groups are critical parts of the organizing being done behind the walls. It's in the groups that we become aware of issues, study them, and formulate plans of actions. So without them, we wouldn't get much done. And the DOC knows this. This is why they oppose our study efforts. Moreover, liberation will only come about collectively. And the study groups teach us how to be in community. For many of us, the feeling of belonging to something larger than ourselves is new. We learn how to be in community by way of the groups. Organizing is collective and the study groups greatly assist that collectivity.
Safear Ness
Additional responses to the questions were provided by Michael "Safear" Ness (he/they). Ness is a white/Mexican Muslim practicing prison abolition at SCI Fayette in Pennsylvania. Safear grew up in Philadelphia and has spent all of their adult life under various forms of carceral supervision. Although they are held captive, they have transformed their cell into a learning center. Education is now their weapon of resistance. [Bio from AAWW.]
I'm Safear Ness. I'm a Muslim, and a prison abolitionist currently incarcerated at SCI prison in Pennsylvania. It's no secret that the [Department of Corrections] DOC's response to COVID has been disastrous. It's been a combination of traumatic lockdowns combined with negligence and screening and testing, especially screening and testing that people that are actually going to bring the virus in, which would be the COs and the prison staff. Also, testing of prisoners. Now horrible. I'm on a block and that right before I moved here, COVID swept through this block. I got comrades whose cellies became sick, then they were forced to stay confined with them. And so they got sick, too. People I know over here got paperwork in on right now because their cellies tests are positive for COVID and medical refused to test them. Instead, the prison chose to test sewage levels to determine if COVID cases were increasing or decreasing in the facility. What I mean is, instead of choosing to test people individually, they choose to test everyone's feces collectively to determine how many COVID cases are in the prison.
And overall, I think it highlights the bigger issue and the overall picture is that prisons, you know, don't prevent harm in society. They don't prevent harm. If anything, prisons only increase harm. People don't come to prison — it's like this myth out there — that people think people come to prison and get the healthcare that they need, and get the "mental health" resources they need and get, you know, the drug addiction treatment that they need — that does not happen in prison. I've been in this prison going on seven years. I've been in their drug treatment program. You know what I mean. I've seen people try to get "mental healthcare." Their "mental healthcare" is drug prescriptions only. Like, stuff is not what you think it is. It's not what you think it is. It's no care and concern here.
You know, and that's why the only humane prison is a prison that doesn't exist. That's the truth. As a society, we have to stop dealing with our problems by putting people in human cages. You know, give people on the streets the resources that they need. Give people job security. Give people homes. Give people access to adequate medical care. Give people access to drug treatment. Give people access to all of these things and you're going to see your communities become safer. Keep putting people in prison — prison hasn't been working. Keep putting them in prison and you're gonna keep getting the same results. You know, and that's it. That's it. That's all I got.
---
Participant Reflections
Here are some of the responses by participants from the session evaluation.
What was the most important thing (story, idea) you learned today?
Over 2 million people are incarcerated in the United States, yet within school students minimally learn about the prison system and the life of an incarcerated person.
Hearing about the Nation of Islam's facility and role in prison organizing. Also, how well-organized prisoners and prisoner groups are.
The importance of centering the voices of incarcerated people when teaching about the PIC
The idea that it is time to bring discussions of incarceration into my classroom seems imperative.
The most important thing I learned today was how this is an important issue that is not brought out by the media or curriculum taught in schools. Mass incarceration is a serious problem that we face in this country and we as individuals can play a role to address this issue and work towards prison abolition.
That I'm not alone in my wish to teach this.
That other educators at all levels see this as curriculum-worthy! Yey!
The power of organizing though incarcerated and the imperative to organize wherever we are.
The limited awareness of educators (as evidenced by the poll) about the prison system and incarceration despite the very evident school-to-prison pipeline that is present in the majority of our schools
I truly appreciated the connection between the dehumanization of people who are imprisoned and prison rebellions.
The juxtaposing of crime v. harm, punishment v. accountability is something that needs investigation and contemplation.
I didn't learn anything new today, but I was very glad to hear from incarcerated folks from my city (Philly). Their stories are so common here. Almost everyone I know has had a family member incarcerated in an SCI facility. Several of my students are currently imprisoned on State Rd (A Philly prison).
Incarcerated persons are humans and their organizing and stories matter.
What will you do with what you learned?
As a teacher educator, I want to consider ways to support my future teachers in thinking about how many students/children may be impacted by a loved one who is incarcerated.
I am in the process of reimagining my whole course and planning how I will teach Civics, and this will inform that process for sure.
I need to think a bit more about where this can come into my curriculum, but I think it has sparked me to learn more.
I will share my thoughts and knowledge that I learned and ensure that I apply what I learned to my future classroom and pedagogy.
PIC will be part of my Climate Justice teachers class.
I am going to continue my learning with the resources mentioned and incorporate this learning into the learning taking place in my classroom!
I am going to find more children's books that aim to humanize incarcerated people and have critical conversations about how incarcerated are represented in texts.
I will take all of the incredible resources in the chat and from the speakers and educate myself and others. I will try to get my school involved with the Study Groups.
I work in a community where we have been talking about people who are imprisoned but when I think more critically about it. Often, the humanization is focused on those who are wrongly convicted. I had not made this connection until this evening and this is a huge shift we need to intentionally make in language, focus and curriculum.
I want to find at least two tangible ways I can become directly involved with prison abolition and find at least one way I can bring this conversation to my school campus.
I will use ideas to try to incorporate the information in my teaching. Since I work with very young students, K through three, and I teach reading, I have to be creative. But there are lots of ways to do that. I can introduce books, passages, and videos to spark discussion and or writing. I will work on this.
I will use some of the resources that were discussed during the session and the break-out group. I really appreciated the way teachers were sharing resources in the chat. The discussion also made me think about the inherent shame and marginalization of the incarceration experience and how we can combat that in our classrooms. I would also be interested in resources specifically geared towards incarcerated youth.
What did you think of the format?
Breakout rooms and hearing from the incarcerated people was awesome!
I appreciated the format and not being pressured.
All worked. I really appreciate the recorded responses from the two activists, providing perspectives from people currently incarcerated.
Everything was great. I especially value the modeling of the importance of students processing their learning.
A bit more time in breakout rooms would be great as well as closed captioning. Otherwise, the introductions in the chat were great, the questions for the speaker were pretty organized and clear, although I think choosing one question from the chat at a time to pose would help clear ideas up. Breakout rooms were phenomenal, there were so many powerful ideas shared that made me really think.
Our facilitator was great — even with a group where many people were quiet. She was inclusive, prompted the group, and provided time and space for those who needed it. Well done! I really appreciated having the group — having even ten minutes to connect was so important to making meaning for ourselves. Thank you for embracing strong pedagogical practices!
I appreciated the break-out room. A 4th-grade teacher shared how people are worried about talking about slavery or racism but they are ok with sharing all the atrocities the Nazis did — pointing out that it's easy to talk about being on the good side of history. And she shared some resources that were useful to her, which I believe ended up in the group chat. That was GREAT.
I really enjoyed the break-out rooms with people from all over the country!
Additional Comments
I really appreciated being able to hear the voices of those who are incarcerated and their perspectives.
Such a great class and wish that we got to hear from Stevie about his experience. I wish there were more classes focused on this topic and the connections to the Black Lives Matter demands.
Every time I attend one of these sessions I learn something new.
It was so wonderful to be in the same space as so many like-minded people who are passionate about these injustices and proactive in their learning and activism.
Thank you — I was exhausted after a long day and almost didn't make it in time. I am so glad I did — I am leaving with more energy and enthusiasm than I started with. That is always a good sign of a great learning opportunity. Thank you!
So grateful to the Zinn Education Project for bringing ignored topics about how to better all people's lives by paying attention to hard issues. The work you do is invaluable to all of us and to the country.
Perhaps this topic can be a day-long professional development where groups could create lessons, research resources, and take away materials that could create used right away. Educators could be grouped by grade level or by subject matter.
---
Presenters
Jesse Hagopian teaches Ethnic Studies and is the co-adviser to the Black Student Union at Garfield High School in Seattle. He is an editor for Rethinking Schools, the co-editor of Teaching for Black Lives, and editor of More Than a Score: The New Uprising Against High-Stakes Testing.
Stevie (Stephen) Wilson is an incarcerated prison organizer and educator. Read about Wilson's work in the blog he authors, Dreaming Freedom, Practicing Abolition. Listen to an interview with Wilson on Rustbelt Abolition Radio to learn more about his work and perspectives.
Safear Ness is a white/Mexican Muslim practicing prison abolition at SCI Fayette in Pennsylvania. Safear grew up in Philadelphia and has spent all of their adult life under various forms of carceral supervision. Although they are held captive, they have transformed their cell into a learning center. Education is now their weapon of resistance.
Garrett Felber, author of Those Who Know Don't Say: The Nation of Islam, the Black Freedom Movement and the Carceral State, is project director of the Parchman Oral History Project and was the lead organizer of the Making and Unmaking Mass Incarceration conference. He co-founded Study and Struggle, a project that organizes against criminalization and incarceration in Mississippi through mutual aid, political education, and community building. They provide a bilingual Spanish and English curriculum with discussion questions and reading materials, as well as financial support, to over 100 participants in radical study groups inside and outside prisons in Mississippi.