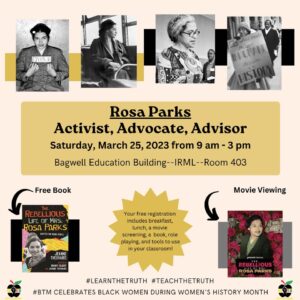 In March 2023, #BlackTeachersMatter and members of the Teaching for Black Lives study group at Kennesaw State University hosted a "Rosa Parks: Activist, Advocate, Advisor" two-day event for undergraduate students and alumni that included a film screening of The Rebellious Life of Mrs. Rosa Parks and interactive curriculum workshops inspired by the Zinn Education Project's Rosa Parks teaching guide.
Participants received breakfast, lunch, and a copy of the young readers' edition of The Rebellious Life of Mrs. Rosa Parks. The first day was a half-day retreat on a Saturday that started with an affirmation to ground participants and a discussion about what brought them to the space. Then, participants responded to Jamboard prompts before and after the movie.  
What do you know about Rosa Parks now?

What have you learned about Rosa Parks after watching the movie?

What questions do you have after watching the movie?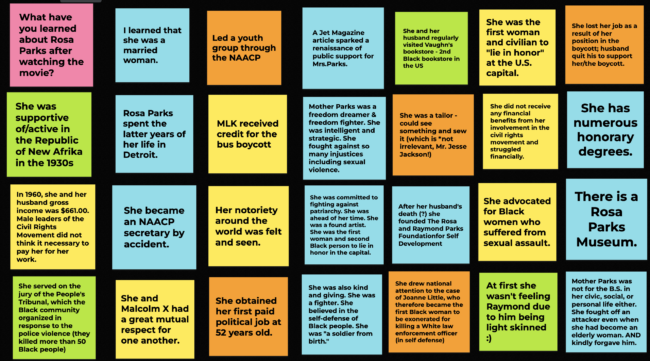 During lunch, Dr. Marrielle Myers, associate professor of mathematics education, facilitated  a session titled, "Teaching the Truth During Tough Times: Policies, Politics, Passion, and Promise."
Dr. Lateefah Id-Deen, also an associate professor of mathematics education, led the "Problematic Timeline" activity, adapted from Ursula Wolfe-Rocca's "Why Is This Timeline So Boring and Short?" lesson. This activity began with participants reviewing the Library of Congress's Timeline Covering the Life of Rosa Parks, 1913–2005, which has only about 20 entries. Dr. Id-Deen prompted participants to share what they noticed and wondered about the timeline and discuss how the timeline positioned Rosa Parks as passive rather than highlighting her intentional choice not to move on the bus. Participants noted that the timeline did not include her crucial role as an activist for domestic violence and voting rights. They recognized the importance of critically examining existing sources in ways that will honor someone's work and life.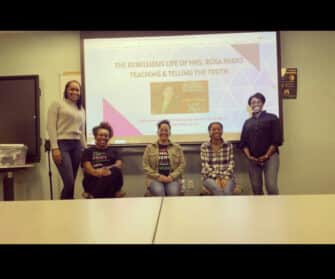 Dr. Kristie Smith, an assistant professor of middle grades ELA education, facilitated an activity adapted from Jesse Hagopian's "Rosa Parks: Countering the Master Narrative" lesson. Afterwards, each participant was invited to imagine, through words, pictures, playlists, and movie soundtracks, their life stories as lived counter-narratives.  
For the second day, the planning group organized a jigsaw reading activity. Dr. Marrielle Myers said: 
It is important to connect prospective and current teachers with lesson plans and other resources the Zinn Education Project offers. After watching the movie and focusing exclusively on what we learned about Rosa Parks, we wanted the second day to expand our conversation about resistance.
Therefore, we included recent articles about the state legislative bans on Advanced Placement African American history and the Florida textbook publisher deleting Rosa Parks' race from materials. We also created space for our students to learn and reflect more broadly about the current political climate and how it impacts P-20 education.  
In small groups, participants were asked to read and discuss one of the three articles below:
They used the following prompts:
What were you already familiar with in this article?

What was new for you in the article?

Were there any concepts, phrases, or ideas that were confusing?

How do you feel about what you read?

What are you wondering now that you've read your article?
In jigsaw fashion, participants moved to another group, where each member had read a different article. Participants shared a 2–3 minute summary of each reading and responded to the following questions:
How does what you're reading align (or conflict with) your desire to become an educator?

What tools or skills do you think you already have to navigate the current teaching climate?

What tools or skills do you think you need to navigate the current teaching climate?

Why are these readings especially important for Black teachers?
One participant commented,
These types of experiences should not be optional. They should be required for all teacher education students.
The evening session concluded by reflecting on the quote by Audre Lorde, "Revolution is not a one-time event."
In conclusion, Dr. Myers said:
The conversation between the two events was riveting. The pre-service and in-service teachers were filled with a range of emotions, thoughts, and wonderings — powerful responses that ranged from fear to anger, to rage, and to feeling more motivated to make a change. We were intentional about asking the teachers how they felt, as emotions are often unwelcome in traditional teacher education classes, but it is critical that we welcome and honor them in the space we cultivated.
This was a powerful series of events that we would like to host again next year. At the end of the two-day event, everyone had a  shared appreciation and desire to unapologetically teach the truth and a reminder of why our work is more important now than ever before.