The Supreme Court's plans to nullify Roe v. Wade, along with a rash of state efforts to criminalize and restrict gender-affirming care for young people, add up to a war on bodily autonomy, especially for poor women and LGBTQ+ people.
At the same time, the Right's curricular gag rules and book bans, which have swept the nation in the last two years, seek to silence the history that might provide our students clarity about how we got here, and models for how people have organized, resisted, and responded to injustice in the past.
As this country grows more dangerous for women, poor people, immigrants, LGBTQ+ people, workers, and communities of color, so must our resolve and determination to #TeachTruth. Below are some articles and resources we're turning to for insight and inspiration this week.
---
A Case for Ending the Supreme Court
In two New Yorker articles below, Keeanga-Yamahtta Taylor provides critical context about the dangerously anti-democratic Supreme Court and about the role of Black feminists in pushing the abortion rights movement toward a broader platform of reproductive justice.
The Case for Ending the Supreme Court as We Know It
How Black Feminists Defined Abortion Rights
---
Reconstruction Amendments and Abortion Rights
When the Court decided Roe v. Wade in 1973, it rested the constitutional right to an abortion upon the 14th Amendment, one of the three Amendments that transformed U.S. society following the Civil War.
In The Reconstruction Amendments Matter When Considering Abortion Rights in The Washington Post, Peggy Cooper Davis shows that advocates of the 14th Amendment, some of whom were formerly enslaved people themselves, conceived of a "liberty" that would address all they'd been robbed of under slavery, including familial rights and control over their reproductive choices.
This is one more example of why we advocate for more attention to the Reconstruction era in the curriculum.
---
Comprehensive Sex Education
As teachers confront laws like Florida's "Don't Say Gay" bill, it is good to remind ourselves of what comprehensive sex education looks like in the classroom.
In Elbow Is Not a Sexy Word: Approaches to sex education, Jody Sokolower shares some of her strategies for teaching sex ed to 9th graders.
The article is from the Rethinking Schools book, Rethinking Sexism, Gender, and Sexuality.
---
Howard Zinn on the People and the Supreme Court

On this 100th anniversary of Howard Zinn, it is worth revisiting his 2005 essay in The Progressive, Don't Despair About the Supreme Court. Here is an excerpt:
It would be naïve to depend on the Supreme Court to defend the rights of poor people, women, people of color, dissenters of all kinds. Those rights only come alive when citizens organize, protest, demonstrate, strike, boycott, rebel, and violate the law in order to uphold justice.
---
Democracy Now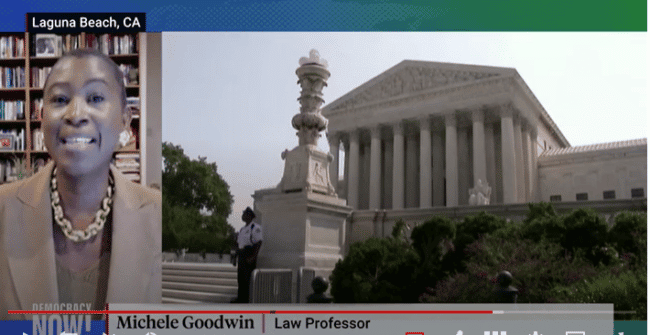 For daily news with a people's history perspective, we recommend Democracy Now's coverage of abortion and reproductive rights including interviews with Michele Goodwin, author of Policing the Womb: Invisible Women and the Criminalization of Motherhood.