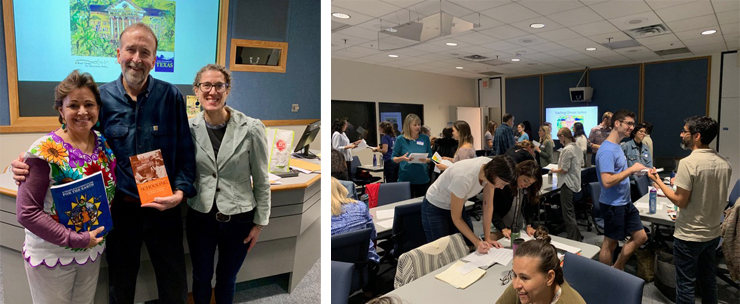 The Teach Climate Justice workshop was one of the best and most inspiring professional development sessions I have attended in my almost 30 years of teaching, and it reminded me of why I became a teacher in the first place! — David Axelrad, teacher, Easthampton, Massachusetts
A Zinn Education Project 2019 highlight was connecting in person with teachers, like David Axelrad, who are bringing the Teach Climate Justice campaign to their classrooms. Zinn Education Project co-director Bill Bigelow connected with these teachers in workshops on climate justice in Portland, Oregon; Surrey, British Columbia; San Francisco; Seattle; Austin; and Brattleboro, Vermont.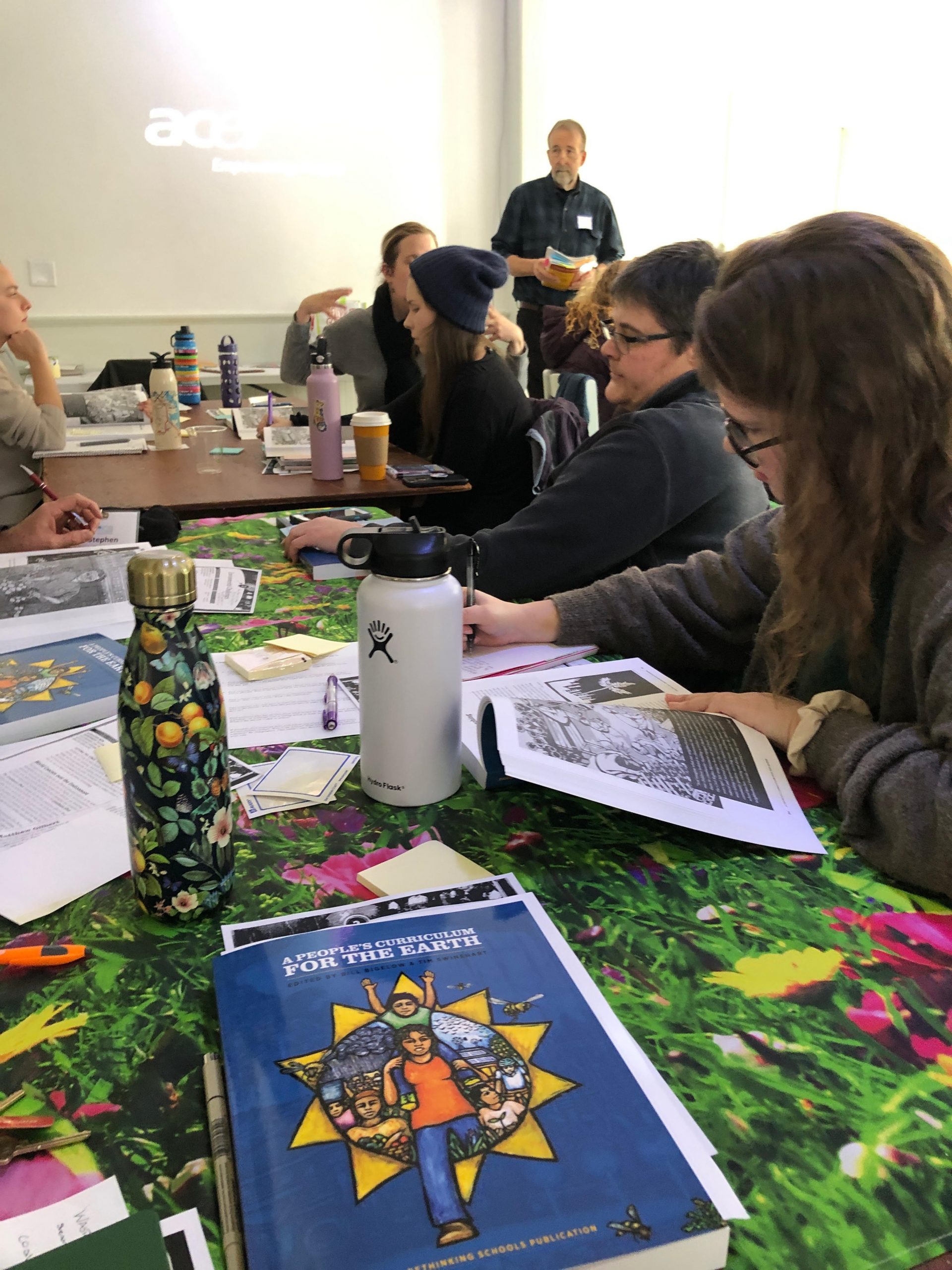 The recent Austin and Brattleboro sessions were for a full day and each participant received a copy of the Rethinking Schools publication, A People's Curriculum for the Earth.
Participants experienced lessons and had a chance to brainstorm about how they could bring back what they learned to their classrooms. The lessons included the Climate Crisis Mixer and Food, Farming, and Justice: A Role Play on La Vía Campesina. Bigelow also shared two poems by Kathy Jetñil-Kijiner: "Tell Them" and "Dear Matafele Peinam." Participants also learned about the inspiring climate justice work going on in Portland, Oregon, where the school board adopted a sweeping climate justice resolution in 2016. Another highlight of the sessions was the chance for social justice educators to meet each other. Becca Polk from Brattleboro said,
We were able to engage in critical climate justice pedagogy alongside teachers and community organizers from Vermont, Massachusetts, and New Hampshire. It was amazing to be there with so many other teacher activists who are educating students in order to take action against the capitalist-driven climate crisis.
She added,
I thought that activities, such as the Climate Justice Mixer and La Vía Campesina role play, were incredible in how they highlighted the stories of people and movements in the resistance. Many of the teachers from our Spark Teacher Education Institute already have plans to incorporate these activities in their classrooms. Thanks again to Bill Bigelow for sharing his experience and knowledge along with many others who are helping to make this world a more just and healthy place!
Other comments about the full-day sessions included:
Bill Bigelow's interest and discipline related to study reminded me to be learning just as much as I am teaching — to be in the scholarship about climate justice, and to bring the global context of it into my classroom. Already an avid user of the A People's Curriculum for the Earth, I was thrilled to experience several of the exercises with other participants at the workshop. The goals of teaching this way took on a whole new level of relevance; I felt why it matters to approach this type of knowledge in such a student-centered way. — Bethany Hobbs, high school social studies teacher, Greenfield, Massachusetts
I loved the experiential exercises which promoted deep thinking, collaboration, listening, processing, and self-reflection. The content was rich and promoted intellectual investment. — Lynn Brooks, executive board, Capitol Area Council BSA, Austin, Texas
Our students really enjoyed the workshop. In our informal conversation in the car ride back, we chatted about how we imagine tweaking some of the exercises for some of our youngest learners and how to engage in this work across the curriculum. We also thought about the ways that climate change is impacting our students, particularly in some of our communities that have larger numbers of students from Puerto Rico, who moved to this area after Hurricane Maria. Engaging in this work might be quite powerful for them. — Ysaaca Axelrod, Ed.D., assistant professor, College of Education, University of Massachusetts, Amherst
I enjoyed being able to discuss things in an interactive way and remembering that these topics and concepts aren't too big or too difficult for our students to engage with. It's part of their lived reality and it's an instrumental way to create radical hope instead of hopelessness. — Rocío Villalobos, program manager, Westcave Outdoor Discovery Center, Austin, Texas
I appreciated that the lessons focused on activists and groups around the world trying to stop climate change. This is especially helpful for younger students who need that hope. I plan to use a modified version of the mixer lesson in my classroom for elementary school English language learners. — Christina Keller, teacher, Magnolia Montessori for All, Austin, Texas
The day flew by. It was just the right balance of the rationale for why we must teach about climate justice with specific (well-tested, very effective) means for doing so. The activities were ones that a range of learners can get their teeth into, shared by way of a masterful mix of democratic teaching strategies.  I highly recommend the Climate Change Workshop for any educator who cares about this important issue! — Linda Donnelly, M.Ed., Ed.S., elementary curriculum and learning support coordinator, The Common School, Amherst, Massachusetts
The Austin workshop, on November 21, 2019, was sponsored by the Texas Center for Education Policy, UT Austin College of Education, Environment Texas, and Rethinking Schools.
The Brattleboro workshop, on December 7, 2019, was hosted by an activist community arts and education center called Epsilon Spires with funding from the Ben and Jerry's Foundation. Attendees included individual teachers and also teams from the Spark Teacher Education Institute and the Department of Teacher Education and Curriculum Studies at the College of Education at University of Massachusetts, Amherst.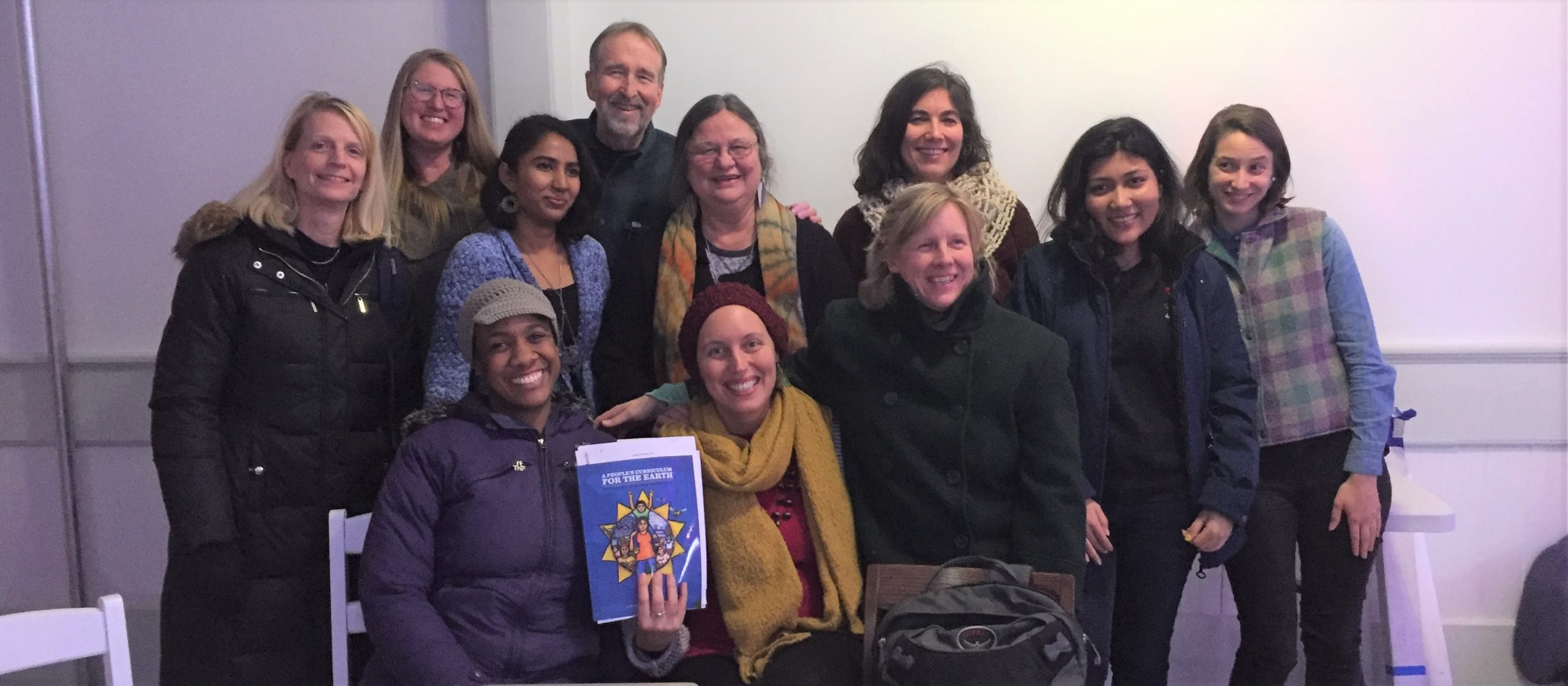 Interested in bringing a Teach Climate Justice workshop to your community?