On March 11, 2020, the World Health Organization declared the threat from COVID-19 to be great enough to warrant labeling it a pandemic.
Media briefing on #COVID19 with @DrTedros. #coronavirus https://t.co/aPFXT3ex5y

— World Health Organization (WHO) (@WHO) March 11, 2020
Dr. Tedros Adhano, Director-General of the WHO in 2020, said in a press conference and briefing about the organization's decision to apply "pandemic" to the coronavirus outbreak. He explained,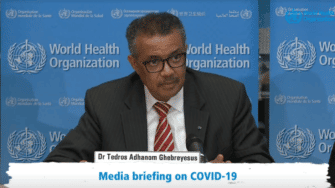 In the past two weeks, the number of cases of COVID-19 outside China has increased 13-fold, and the number of affected countries has tripled.
There are now more than 118,000 cases in 114 countries, and 4,291 people have lost their lives.
Thousands more are fighting for their lives in hospitals.
In the days and weeks ahead, we expect to see the number of cases, the number of deaths, and the number of affected countries climb even higher.
WHO has been assessing this outbreak around the clock and we are deeply concerned both by the alarming levels of spread and severity, and by the alarming levels of inaction.
We have therefore made the assessment that COVID-19 can be characterized as a pandemic.
On July 7, 2020, President Donald Trump announced that the United States would formally be leaving the WHO and submitted a letter to notify the organization that the U.S. would withdraw a year to the date. President Joe Biden rescinded this letter on his second day in office, January 22, 2021.
The WHO provides an interactive timeline of COVID-19 on its website.