On April 21, 1937, Illinois congressman Arthur Wergs Mitchell, was told to move to the section of the train designated for African American passengers, in accordance with the Arkansas Separate Coach Law of 1891.
Under threat of arrest, Mitchell moved to the designated area and filed a lawsuit once he returned to Illinois.
The ICC dismissed the complaint, stating that "the discrimination and prejudice was plainly not unjust or undue." He also lost on appeal to the U.S. District Court for the Northern District of Illinois, which stated that "the small number of colored passengers asking for first-class accommodations justified an occasional discrimination against them because of their race."
Mitchell appealed that ruling directly to the U.S. Supreme Court, where he presented oral arguments himself. The Supreme Court ruled in his favor on April 28, 1941 in Mitchell v. United States et al. However, his political career in Chicago was over because of his having angered the white political establishment.
This description is from the Encyclopedia of Arkansas where you can read a more detailed description of Mitchell v. United States.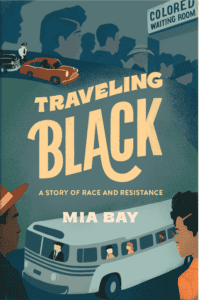 In Traveling Black: A Story of Race & Resistance Mia Bay provides a detailed description of Mitchell v. United States, et al. (1941), explaining why the NAACP did not take on the case. She also highlights how Mitchell had not been a member of the NAACP and in fact,
Once in office, Mitchell developed an acrimonious relationship with the NAACP's leaders, who found him an undependable ally. In 1935, not long after he was first elected,  he derailed their attempt to get Congress to consider a strong anti-lynching bill by introducing a far weaker bill of his own. . . .
It is not clear that the NAACP would have taken his case [even if he had gone to them]. NAACP lawyers were leery of litigating cases that did not clearly undermine segregation, and avoided Pullman car cases for that reason.
This background offers students insights into the complex political and legal decisions involved when challenging unjust laws.
Read about more protests of Jim Crow transportation.