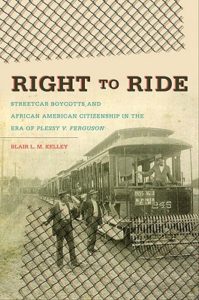 Through a reexamination of the earliest struggles against Jim Crow, Blair Kelley exposes the fullness of African American efforts to resist the passage of segregation laws dividing trains and streetcars by race in the early Jim Crow era. Right to Ride chronicles the litigation and local organizing against segregated rails that led to the Plessy v. Ferguson decision in 1896 and the streetcar boycott movement waged in twenty-five southern cities from 1900 to 1907. Kelley tells the stories of the brave but little-known men and women who faced down the violence of lynching and urban race riots to contest segregation.
Focusing on three key cities — New Orleans, Richmond, and Savannah — Kelley explores the community organizations that bound protesters together and the divisions of class, gender, and ambition that sometimes drove them apart. The book forces a reassessment of the timelines of the black freedom struggle, revealing that a period once dismissed as the age of accommodation should in fact be characterized as part of a history of protest and resistance. [Publisher's description.]
Winner of the 2010 Letitia Woods Brown Memorial Book Award, Association of Black Women Historians.
ISBN: 9780807871010 | University of North Carolina Press | More about the book
Narrates the stories of courageous but obscure men and women who faced lynching to challenge segregation. . . . Kelley causes a reexamination of the period described by historians as the 'age of accommodation.' —The Courier
The age of [Booker T.] Washington is most frequently remembered as an age of accommodation, when black people . . . cowered beneath the descending shadow of Jim Crow. . . . Blair Kelley alters our understanding of this era. . . . [Her] reassessment of the nadir encourages us to measure accomplishment with a long view, to judge first our willingness to sacrifice and refuse to denounce as cowards those who fail today so that we can win tomorrow. —The Nation
Read about streetcar protests in Richmond, Virginia in 1867,  Charleston, South Carolina in 1867 and Little Rock, Arkansas in 1903.
Read about dozens more protests of Jim Crow transportation from 1841 to 1992.