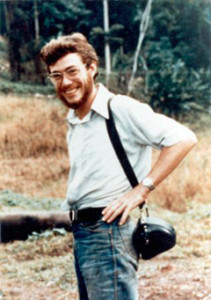 Benjamin Ernest "Ben" Linder (July 7, 1959–April 28, 1987), a U.S. engineer working on a small hydroelectric dam in rural northern Nicaragua, was killed by the U.S. CIA funded Contras. Linder and two Nicaraguans — Sergio Hernández and Pablo Rosales — were killed in a Contra ambush on April 28, 1987.
In addition to volunteering as an engineer, Linder participated in vaccination campaigns, using his talents as a clown, juggler, and unicyclist to entertain the local children.
Linder's mother said at his funeral,
My son was brutally murdered for bringing electricity to a few poor people in northern Nicaragua. He was murdered because he had a dream and because he had the courage to make that dream come true. . . . Ben told me the first year that he was here, and this is a quote, 'It's a wonderful feeling to work in a country where the government's first concern is for its people, for all of its people.'
There is a free downloadable lesson for middle and high school on Ben Linder in Inside the Volcano and a book about his life, The Death of Ben Linder: The Story of a North American in Sandinista Nicaragua from Seven Stories Press. The author Ursula K. Le Guin knew the Linder family and wrote the poem, The Vigil for Ben Linder, and years later lamented that we continue to "hold vigils for young people sacrificed to the greed and folly of our government."
Sting wrote the song "Fragile" as a tribute to Ben Linder in his album . . . Nothing Like the Sun (1987). Mercedes Sosa offers a beautiful rendition of the song in Spanish.
Find more resources below for teaching about Central America and at the Teaching Central America website.