Ms. Richardson's vivid details gave life to facts out of a textbook. It makes me remember these things really did happen and it is not just a story. 
—

Alex M.
 It meant so much for me to have a chance to talk to Ms. Richardson and to hear how she handled all the situations.  
—

Kaylea A.

These are just a couple of the comments shared by high school students from two classes in Indianapolis after a virtual visit with Student Nonviolent Coordinating Committee (SNCC) veteran and filmmaker Judy Richardson. Held on May 19, 2014, there were about 55 students in each class.

The exchange was made possible through a collaboration between the SNCC Legacy Project and the Zinn Education Project. During this decade of historic anniversaries of countless modern Civil Rights Movement milestones, the SNCC Legacy Project is partnering with the Zinn Education Project to bring the scholarship and experience of historians and veterans to classroom teachers. This spring, three "visits" were held. In addition to Indianapolis, veterans spoke with students in Birmingham, Alabama and New York, New York.

Indianapolis high school U. S. history teacher Susan Tomlinson coordinated the school side of the Skype visit and wrote about the exchange:

Our connection with Judy Richardson was wonderful. It was such a great experience for the students to hear from someone who not only was there but who was close to their age at that time.

In March, we spent close to two weeks studying the Civil Rights Movement and in particular SNCC. In preparation for the conversation with Judy Richardson in May, we reviewed and added more in-depth information about Freedom Summer. We watched the Freedom Summer portion of Eyes on the Prize and read from several issues of The Student Voice from the summer of '64.

The things that Ms. Richardson talked about dovetailed beautifully with what my fellow U.S. history teacher Todd Kendrick  and I had presented and discussed in our classes. However, regardless of the things we present, having an eyewitness "live" and in person, made those historic events become much more real.

Speaking of "real," they loved how "real" Ms. Richardson was with them. Students see figures in history or in current events, famous or not, as something "special," in a way that does not necessarily relate to them and their own abilities. Ms. Richardson helped them realize that movements are made of people who care and dare to act. She is, in fact, very special, and her experiences and commitment make that so. However, her conversation with the students made it clear that it does not take "special" skills and abilities to propel one to action. It takes choices, action, and finding it within yourself to take that first step, again and again. That is what she made clear. They were quite inspired, and, I dare say, some felt empowered.

The students gave all around great reviews. Their only wish was for more time to talk and ask questions. They also said we should have more of these types of experiences in the U.S. history classroom.
 More Student Comments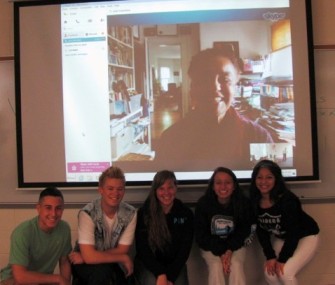 I really enjoyed having you Skype my class. I loved that we learned things we couldn't have from the book.  It was nice hearing your experience. —Cailyn A.
Thank you for taking the time to talk to us.  I found what you said very motivating! —Britni B.
It was very interesting talking to you.  It was a privilege to talk to someone from the Civil Rights Movement. It was a great experience I will never forget. —Jared P-C
It was great to meet somebody who was part of the Civil Rights in such an active way and it was cool that you shared the courage it took to go over there and it was nice to meet you. —Gurinder B.
…I learned so much more about SNCC and Civil Rights Movements from you than from the textbook. —Elizabeth M.
…Everything you had been through really made me think about the actual struggle you had gone through. It is so different reading about the civil rights act than actually listening to someone who lived through it all. Thanks again! —Katelyn W.
I love your enthusiasm that you put in your beliefs. It was great hearing you speak. —Johnathan Y.
…It was a lot more enlightening to hear it from an eye witness, rather than reading it from a book. Everything you said was very interesting. It's amazing the bravery and courage you showed to make a better world. I thank you for everything you have done. —Devin H.