I've learned more here today about Reconstruction
than in all my formal education.
I came away with more knowledge about Reconstruction. I also gained resources, lesson plans, pedagogy, and the incredible background knowledge from the other participants.
These are reflections from two of the 34 teachers who filled the fellowship hall at Epsilon Spires in Brattleboro, Vermont, on March 25 for a Zinn Education Project workshop on teaching Reconstruction.
Facilitators Daisha Brabham and Nataliya Braginsky guided the participants through a series of interactive Zinn Education Project classroom lessons on the bottom-up history of this era and how the unfulfilled promises of Reconstruction might shape our politics and curriculum moving forward. They also engaged participants in an examination of the recommendations from the report, Erasing the Black Freedom Struggle: How State Standards Fail to Teach the Truth About Reconstruction.
In a Brattleboro Reformer article, the facilitators explained why Reconstruction is such an important subject.
Reconstruction sets the stage for the next century, not only for African Americans, but the entire country. — Daisha Brabham
The echoes of Reconstruction are ringing loudly across the country today. — Nataliya Braginsky
Vermont teacher participant Bethany Hobbs commented on the relevance for the state. While Vermont hasn't passed restrictive legislation on education that other states have,
Without state expectations to include Reconstruction Era information as a requirement of curriculum, teachers are more likely to choose the content for which they're most comfortable and knowledgeable.
The participants came from Vermont, Massachusetts, and New York to learn about lessons on Reconstruction, to brainstorm ways of adapting those lessons to their classroom, and to share teaching ideas. Cohorts of teachers came from the Windham County School District and the Spark Teacher Education Institute.
Thanks to funding secured by Jamie Mohr at Epsilon from the Sparkplug Foundation, each teacher received a copy of the Rethinking Schools book, Teaching a People's History of Abolition and the Civil War, resources from the Zinn Education Project's Teach Reconstruction campaign, and a copy of the report, Erasing the Black Freedom Struggle: How State Standards Fail to Teach the Truth About Reconstruction. Epsilon also provided a local farm-to-table lunch.
Here are highlights from the day.
Gallery Walk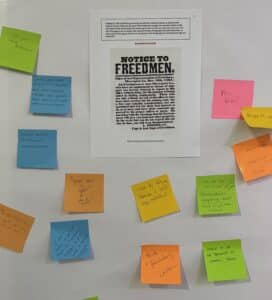 Drawing on primary documents from the report vignettes and the lesson Reconstructing the South: What Really Happened by Mimi Eisen and Ursula Wolfe-Rocca, the facilitators created a gallery walk for participants to interact with silently, commenting on post-it notes and responding to each other — at first in writing and then in conversation. These guiding questions were shared:
How did African Americans practice freedom during Reconstruction, even in the face of attempts to deny this freedom?

How did this practice of freedom redefine the social, political, and cultural landscape of the United States? 

How is this practice of freedom still alive today? 
One participant noted:
The gallery walk was amazing! I loved the framing with the essential questions, then the time to see the rich documents and reflect, and it got even better when we did the group discussion of the essential questions on the other side.
To create a collective poem of what was learned during the gallery walk, the facilitators invited participants to write one line, using suggested prompts including "Tell Them That I" or "Write That I." This was adapted from the Poetry of Defiance lesson by Adam Sanchez. Two participants volunteered to read some of the lines aloud.
Write how I was urgent to use my hands, not for the wealth of others but to hold my baby close.
Tell them how important land is. That true freedom is land ownership. To till and plant and harvest. To reap what you sow.
Don't forget that we've stood in the sun, only to be dragged out of it again.
Tell them how he took back our land and how you're now building a highway through it.
Don't forget slavery existed in New England.
Tell them that in the 1860s, there were many African Americans in the U.S. Congress.
Remember, we emancipated the enslaved, broke our brutal chains, stood for eight years in the sun, and then were forced back into the bloody shade of enslavement by white hoods of supremacy.
Write that we demanded ownership of our churches and souls. We built this protective haven for not only divine salvation, but to safeguard our political fire and blaze forward.
Tell them we finally had representation in the houses of Congress and then saw that representation diminish and stay low for decades.
Tell them that we always were and will ultimately always be free.
Tell them that people struggled long after the moment of "Emancipation" and continue to struggle today for FREEDOM.
Mixer on Social Movements During Reconstruction
Participants engaged in a mixer lesson by Adam Sanchez and Nqobile Mthethwa that explores the connections between different social movements during Reconstruction, introducing students to individuals in the labor movement, women's rights, and voting rights movements and their attempts to build alliances with one another. The lesson, called When the Impossible Suddenly Became Possible: A Reconstruction Mixer, is available at the Zinn Education Project website.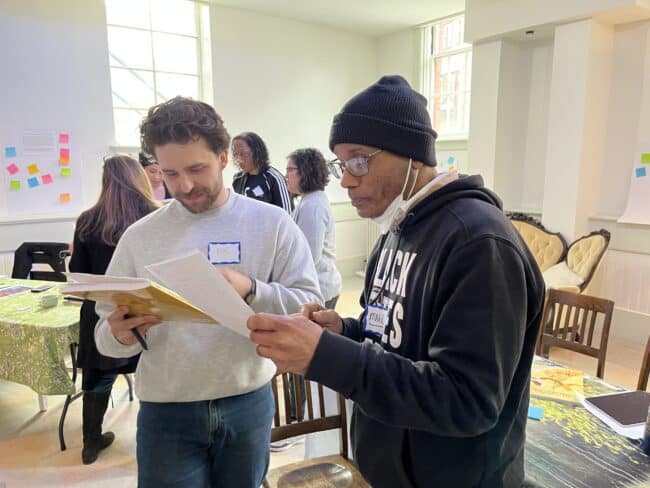 The mixer was debriefed first as it would be for students in the activity, and then in the role of educators to consider the pedagogy.
Activity Reflection
Out of all the people you met, whose story did you find most compelling. Why?

Was it possible for different social movements to work together after the Civil War? What brought them closer? What pushed them apart?
Pedagogical Reflection
What did you learn during the mixer? How did it feel to participate? 

How do you think it would feel for your students? What challenges might come up when doing this with your students? What shifts or adaptations could you make?
Participants noted,
In the mixer, I also learned more about certain historical figures. We had a lot of discussion about Susan B. Anthony. I appreciated talking about role playing and some thoughts on implementing that, even as I try to adapt these lessons to an elementary level.
The mixer strategy was simple, but so powerful. Perspective, as it relates to people other than ourselves and times in which we do not live, is hard to grapple with sometimes. This activity and its countless iterations will definitely be something I use.
Reparations
To connect Reconstruction to the present day, the facilitators introduced the theme of reparations with two guiding questions.
What are the present-day inequities still faced by African Americans over a hundred fifty years after Reconstruction? 

What are some contemporary examples of resistance movements to address the legacies of enslavement and reconstruction?
They opened by asking participants to listen to the Gil Scott-Heron song, "Train From Washington" while they also read the lyrics.
The question they discussed were:
What does Gil Scott-Heron, who was born in 1949 in Chicago, teach us about Reconstruction?

In what ways does this song, released in 1980, feel relevant today? What connections do you see?
Following the song, they engaged in an abbreviated version of the lesson Repair: Students Design a Reparations Bill by Ursula Wolfe-Rocca. In small groups, participants were given a one-page report from the lesson to read and discuss about current inequities for African Americans connected to Reconstruction.  
Recommendations
Participants explored the 10 recommended standards from the national report, Erasing the Black Freedom Struggle: How State Standards Fail to Teach the Truth About Reconstruction, and worked in small groups to share resources and plans regarding at least one of the recommendations.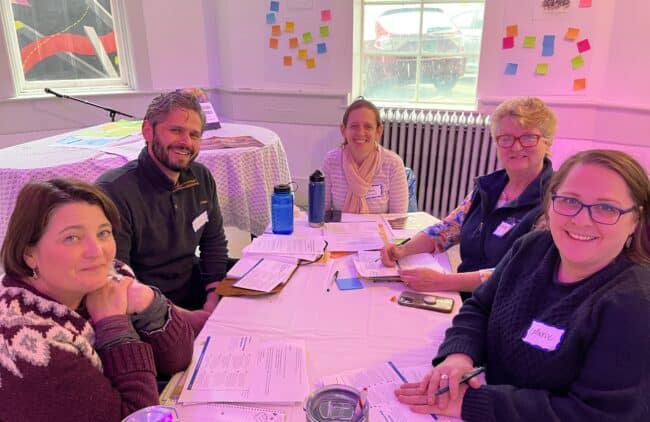 The day closed with reflections on what they had learned and feedback on the session.
More Photos and Video Clips
Additional Reflections
Participants shared what they learned and/or appreciated about the workshop.
I'm leaving with many more resources to teach Reconstruction! I'm especially excited to look up the WPA papers, in particular the one of Fountain Hughes. The song by Gil Scott Heron was new to me, also — thank you!
More in depth stories from Reconstruction, particularly the various ways that Black people worked to empower themselves and address the needs of others.
Great activities like the gallery walk, lots of voices from Reconstruction that I was not familiar with, and the importance of centering resistance.
I learned more about specific history of Reconstruction, especially from the chalk talk resources.
The pedagogy, how the presenters designed and implemented a multidisciplinary approach to teach us about an important historical period.
The 10 recommended standards to focus on, especially looking at land, labor, and connecting Reconstruction to the present. I liked the Reconstruction mixer and doing activities we could do with students (such as the "chalk talk").
A highlight of the day was connecting with the bright and knowledgeable people in the room.
The chalk talk and the mixer were a great way to get discussion going about these topics. I also just appreciated talking with other educators about the challenges in addressing these topics.
The dynamic of the entire day was amazing. Everyone was so in tune with willingness and eager to learn.
The community the presenters were able to create was a wonderful bonus.
I loved meeting and getting to connect with other educators and sharing resources. Delicious lunch and great discussions, accessible location.
Facilitators
Daisha Brabham is an educator, public historian and curriculum writer. She currently teaches at Windsor Public Schools and Southern Connecticut State University. She is also a steering committee member and teacher organizer with the Anti-Racist Teaching and Learning Collective. In 2018, she worked with the Yale New Haven Teachers Institute to publish a curriculum on teaching race in law. She was also awarded a Fulbright to receive her master's at the Royal Holloway University of London in Public History and expand her internship, Homegoing, in which students learn about and produce stories about Afro-Diasporic histories.