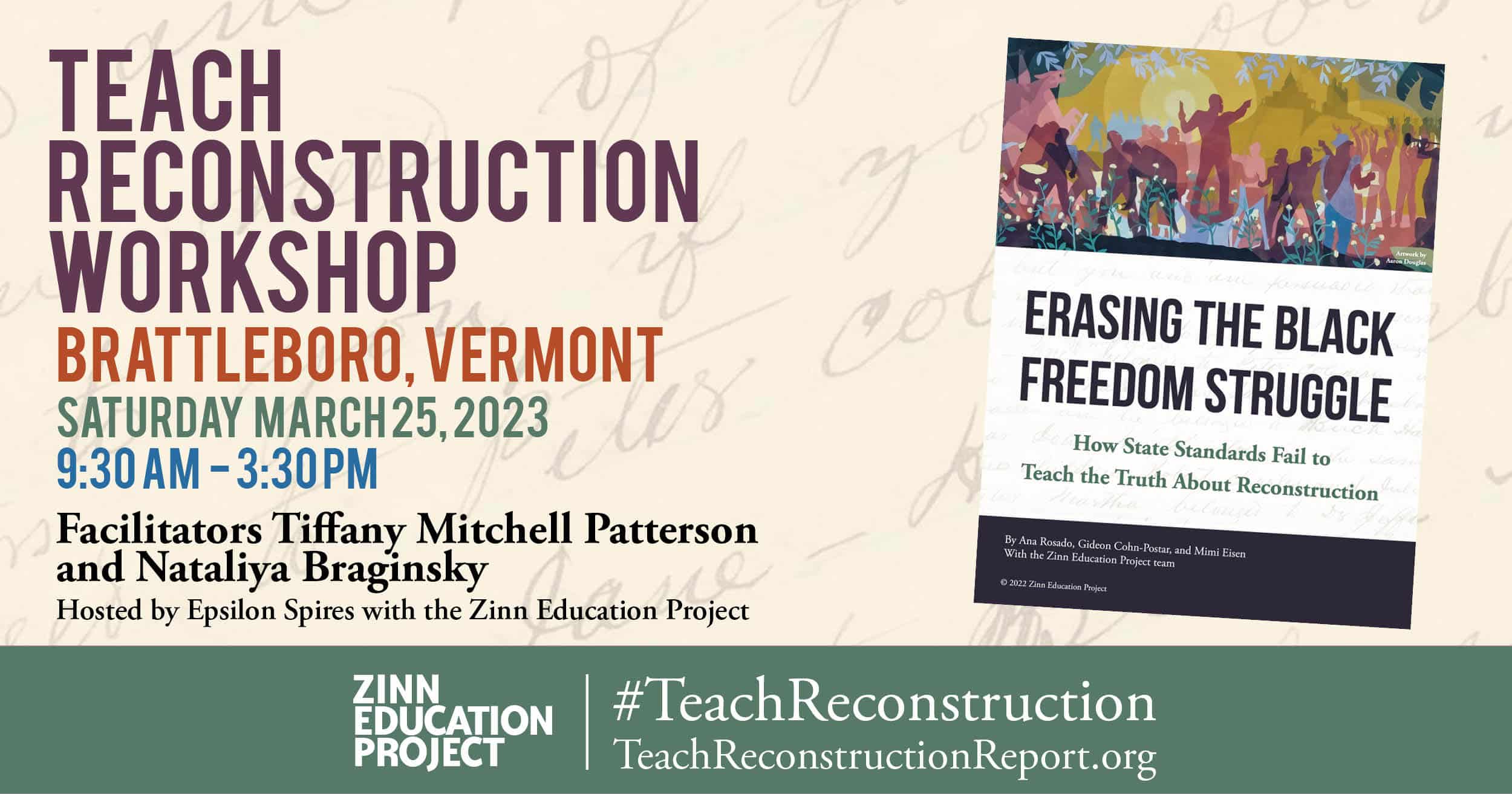 Join the Zinn Education Project in Brattleboro, Vermont, on Saturday March 25th, for an all-day workshop on teaching Reconstruction.
Facilitators Tiffany Mitchell Patterson and Nataliya Braginsky will guide educators through a series of classroom-friendly activities that both uncover the underrecognized, bottom-up history of this era and ask how the unfulfilled promises of Reconstruction might shape our politics and curriculum moving forward.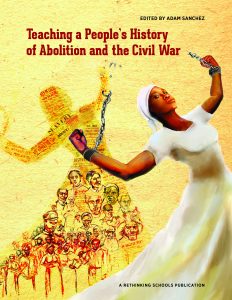 All participants will receive a copy of the Rethinking Schools book, Teaching a People's History of Abolition and the Civil War, resources from the Teach Reconstruction Campaign at the Zinn Education Project, and a copy of the first-ever analysis of Reconstruction standards across the nation, Erasing the Black Freedom Struggle: How State Standards Fail to Teach the Truth About Reconstruction.
Lunch will be provided and sourced from a local farm-to-table restaurant.
Hosted by Epsilon Spires. Registration fee is $35.
Register

Dr. Tiffany Mitchell Patterson is a manager of social studies at District of Columbia Public Schools, with over a decade of experience as a social studies educator and seven years of experience as a teacher educator. Her research interests include racial and social justice in education, education activism, teaching diverse Black narratives and people's history in social studies education. In addition to serving as a Teach Reconstruction campaign advisor, her work around Reconstruction includes What Everyone Should Know About Reconstruction 150 Years After the 15th Amendment's Ratification which is available on Newsela. Mitchell Patterson is a Teaching for Change board member. Advocacy, activism, intersectionality, anti-racist and anti-oppressive education lie at the core of her work. Education is her revolution.

Nataliya Braginsky is a history teacher who has been working in schools since 2007. As a core member of the Anti-Racist Teaching and Learning Collective, Nataliya leads workshops in curriculum development, culturally relevant pedagogy, and restorative justice.
Her education-related writing has appeared in Rethinking Schools, the Washington Post, Law and Political Economy, and In These Times.
Both Mitchell Patterson and Braginsky are 2022–2023 Prentiss Charney Fellows.