This promotion has ended. Please see our latest news posts for active book giveaways.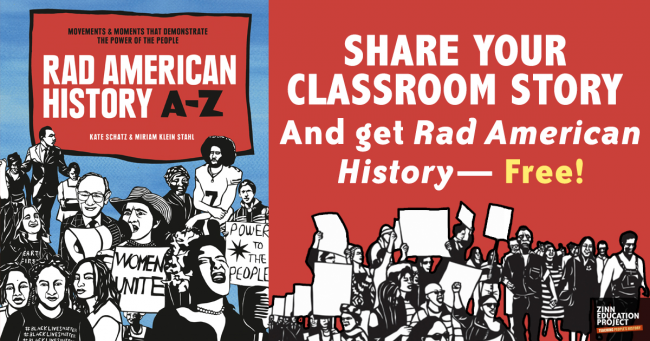 We welcome stories from teachers who are (or plan to) teach people's history lessons via online platforms (such as Zoom or Google Classroom) while schools are closed. Your story can help other teachers faced with the challenges of remote learning. How are you using those platforms to engage students in people's history lessons?
We are also interested in stories about lessons on the coronavirus with a focus on equity and climate science.
In appreciation for your time, we can send you a free copy of Rad American History A-Z, donated by the publisher Ten Speed Press.
Written for middle school, but hard to put down as an adult, this alphabet book of people's history opens with a quote by Grace Lee Boggs: "History is not past. It is the stories we tell about the past." The stories in Rad American History are the stories we want told in classrooms everywhere. Here are just a few examples: A is for Alcatraz, B is for Black Lives Matter, K is for Korematsu, V is for Voting Rights, and Y is for Youth Climate Movement. Each story is reader-friendly and beautifully illustrated, ending with an annotated list of other events or people of note that begin with that letter.
Share your story about how you are (or plan to) teach people's history lessons via online platforms, teach about the coronavirus, and/or about how you have used any of the lessons posted at the Zinn Education Project website. Respond in two or more paragraphs.