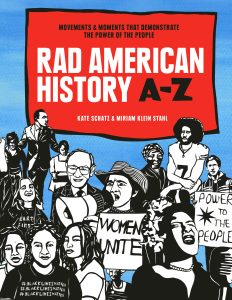 Written for middle school, but hard to put down as an adult, this alphabet book of people's history opens with a quote by Grace Lee Boggs: "History is not past. It is the stories we tell about the past."
The stories in Rad American History are the stories we want told in classrooms everywhere. Here are just a few examples, A is for Alcatraz, B is for Black Lives Matter, K is for Korematsu, V is for Voting Rights, and Y is for Youth Climate Movement.
Each story is reader-friendly and beautifully illustrated, ending with a short annotated list of other events or people of note that begin with that letter. Congresswoman Barbara Lee said, this is a "necessary book that speaks truth to power." We agree.
ISBN 9781984856838 | Ten Speed Press
Reviews
In such chaotic political times, Rad American History is a critical tool for young people to know how change happens — and to know that they too can make change happen. This book belongs on all library shelves and in history books as a transformative approach to history as we know it.
— Alicia Garza, founder of BlackFutures Lab and co-founder of Black Lives Matter
As multifaceted as the nation itself, Rad American History A–Z is an alphabet's worth of movements and moments that have shaped the United States, including many history-makers such as young people who are often marginalized or omitted from traditional textbooks.
— Rebecca Stefoff, adapter of James W. Loewen's Lies My Teacher Told Me: Young Readers' Edition