The Zinn Education Project team hosted seven interactive workshops, a dynamic exhibit, and two receptions during the 2023 National Council for the Social Studies (NCSS) conference in Nashville in early December.
This is a big change from when ZEP co-director Bill Bigelow first attended the NCSS conference as a young teacher in 1979 and found barely a mention of social justice. Or 15 years ago, when NCSS rejected Howard Zinn's offer to keynote — for free. It took behind-the-scenes organizing to turn that around and, even so, Zinn was placed on the last day after most people have usually left the conference. Defying tradition, 800 teachers stayed on to hear Zinn's phenomenal talk to teachers that November morning in 2008.
Since then, the Zinn Education Project team has hosted an exhibit and workshops each year. In addition to our presence, consistent exhibitors and presenters include Learning for Justice, Seven Stories Press, Beacon Press, and other progressive organizations. Of course, there are also right-wing groups. In 2014, we exposed the Koch Brothers funding of the Bill of Rights Institute.
This year at NCSS the Zinn Education Project celebrated our 15th anniversary.
Workshops
Our team engaged attendees in lessons from the ZEP website in the workshops listed below. One teacher who attended three of our workshops noted, "These were so awesome. Being able to do these lessons helps my understanding of how they would look in my classroom."
Birth of the Mexican Border by Bill Bigelow
Pipeline Protests: Putting Climate Civil Disobedience into the Curriculum by Ursula Wolfe-Rocca
Lives in Our Lineage: Teaching Oral History Methods by Cierra Kaler-Jones
Rosa Parks: Teaching Against Myths and Misconceptions by Tiffany Mitchell Patterson and Jessica Rucker
Teaching Reparations by Ursula Wolfe-Rocca
Teaching for Climate Justice Through Stories of Crisis and Possibility by Bill Bigelow
The Black Panther Party You Never Learned About in School by Jesse Hagopian and Adam Sanchez
In addition, ZEP team member Jesse Hagopian joined Anthony Arnove and Haley Pessin on a panel called Teaching Voices of a People's History of the United States in the 21st Century: Documents of Hope and Resistance and Why it Matters.
---
Exhibit
The first thing attendees saw when they entered the enormous exhibit hall was our well-placed double booth. Visitors learned about our people's history lessons, new climate justice resources, Reconstruction report, and Teaching for Black Lives study groups. There was also a table featuring resources from the two organizations that coordinate ZEP — Rethinking Schools and Teaching for Change.
The booth became a haven for progressive teachers who shared their stories about using Zinn Education Project lessons and the challenges of teaching people's history in the face of anti-history education laws.
Our neighbors were the Colored Conventions Project and Seven Stories Press.
In collaboration with NCSS, we hosted a Drag Story Hour with Nashville's own Veronika Electronika who read That Flag and My Shadow Is Purple.
My favorite session today at the National Council For The Social Studies Conference, "Drag Story Hour" @dragstoryhour hosted by @ZinnEdProject @NCSSNetwork. Veronika Electronika read "My Shadow Is Purple," dedicated to teachers who resist & dare to #teachtruth. #ncss2023 pic.twitter.com/OBPE2bY2Vm

— Kimi Waite, Ph.D. (@KimiWaite) December 1, 2023
Convenings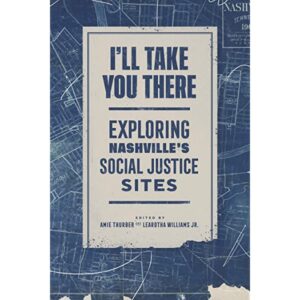 To interact with colleagues attending the conference and others based in Nashville, we hosted two dinner receptions.
On Friday evening, we were joined at the Jackalope Brewery by the Civics 101 podcast team; conference keynote speaker Dolly Chugh; Prentiss Charney fellows Tiffany Mitchell Patterson, Rabiya Kassam-Clay, and Jessica Rucker; Learning for Justice facilitators Kimberly Burkhalter and Jaci Jones; Institute for Racial Equity in Literacy directors Tricia Ebarvia and Sonja Cherry-Paul; and many more guests.
On Saturday night in the Butcher and Bee Rose Room, we were joined by Gregory O'Loughlin and Amy Nystrand from the Nashville Educators' Cooperative; Anthony Arnove and Hayley Pessin who co-edited 21st Century Voices of a People's History; Nashville Sites coordinator Mary Beth Pethel; historian Walter Greason, Graphic History of Hip Hop author; D.C. area teachers Ariel Alford, Nicole Clark, and Amber Bennett Foote; and many more guests.
Some folks joined us both evenings — including The Neutral Ground filmmaker C. J. Hunt; Lauren Cooper of the Center for Black Digital Research; and Zinn Education Project co-founder Bill Holtzman.
Rethinking Schools executive director Cierra Kaler-Jones spoke to the importance of supporting people's history educators in this time. She introduced historian Learotha Williams, co-author of I'll Take You There: Exploring Nashville's Social Justice Sites. Williams described how his students advocated for the marker to the Nashville Slave Market.
Tennessee State Representative Aftyn Behn (House District 51) welcomed everyone to Nashville and noted that her copy of A People's History of the United States is front and center on her office bookshelf for all visitors to see.
Nashville History
Before flying home, two of our staff saw historic sites in Nashville, including the historic marker Dr. Williams referenced in his remarks. Jesse Hagopian was pleased to see his ancestor J. B. Lenoir in a photo in the National Museum of African American Music.
We offer more stories about Nashville and statewide history in our series on people's history banned in Tennessee.
Boston in 2024
We look forward to the upcoming NCSS conference in Boston from Nov. 22-24. The following years the conference is in Washington, DC (2025) and Chicago (2026).