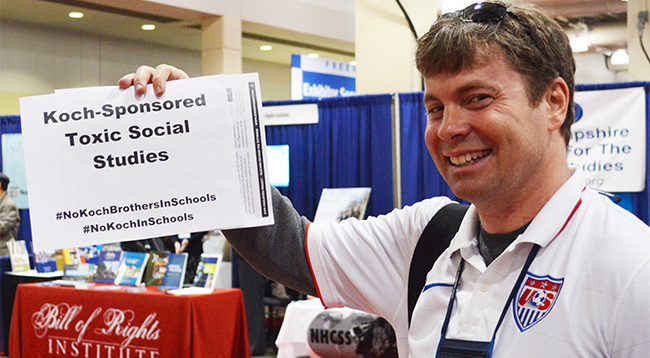 In November of 2014, the Zinn Education Project published a widely circulated exposé of the Koch Brothers influence on K-12 civics education. Called "The Koch Brothers Sneak into School," the article explained:
The billionaire brothers, Charles and David Koch, make their money in fossil fuels. They use some of their vast wealth to fund a network of organizations to push their interests. One of these is the Bill of Rights Institute. The Kochs have funneled millions of dollars to the Bill of Rights Institute to promote their right-wing version of freedom: Government regulation is bad, the free-market knows best. The Kochs' formula: profit from fossil fuels, support politicians who cut public school funding and social programs, give money to groups like the Bill of Rights Institute who tell the world that this is what freedom looks like.
The exposé, by Rethinking Schools editor Bill Bigelow, was published in the Huffington Post, Common Dreams, ZNet, and Diane Ravitch's blog.
Two weeks later, we organized a (silent) protest of the Koch Foundation funded Bill of Rights Institute at the National Council for the Social Studies (NCSS) conference in Boston. The Bill of Rights Institute had a booth at the conference and our Zinn Education Project booth was just two aisles away.
We printed #NoKochInSchools signs so that teachers could expose the implications of the Koch Brothers in our schools. Everyone wanted to join in and publicly express their outrage.
Update: The Bill of Rights Institute did not have a booth at the 2015 National Council for the Social Studies (NCSS) annual conference in New Orleans.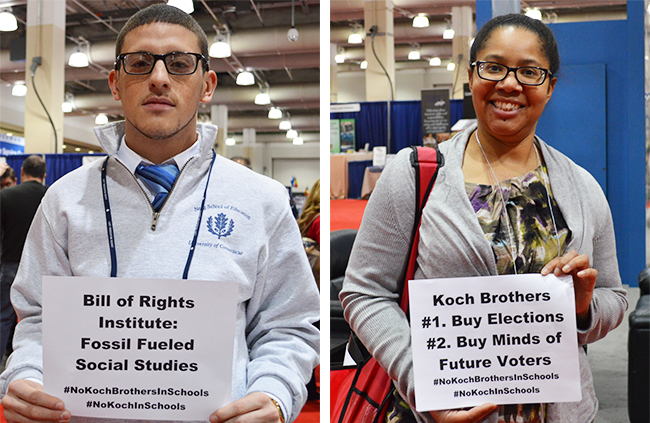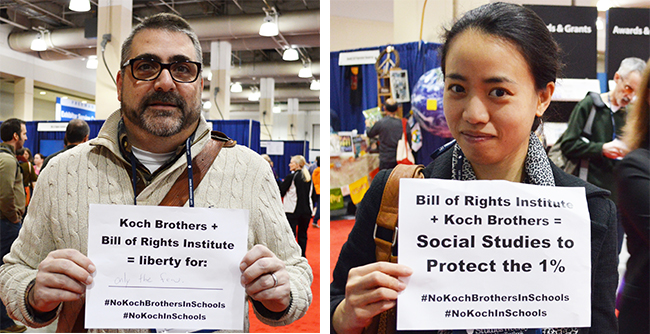 Join Us
Print your own sign and email it to us and/or share it on Instagram or twitter with the hash tag: