On Thursday, February 16, MapSO Freedom Schools hosted a panel editors and contributors to Look for Me in the Whirlwind: From the Panther 21 to 21st-Century Revolutions. The book contains the Panther 21 trial manuscript and commentary from surviving members of the 21: Sekou Odinga, Dhoruba Bin Wahad, Jamal Joseph, Shaba Om, and Sundiata Acoli. Still-imprisoned Imam Jamil Al-Amin and Mumia Abu-Jamal contribute new essays, as well. Poetry and prose from Panther 21 defendants Afeni Shakur, Kuwasi Balagoon, Ali Bey Hassan, and Michael "Cetewayo" Tabor is included.
Event Recording
Speakers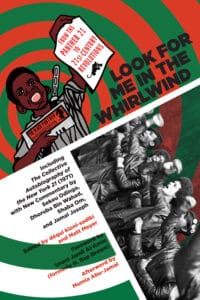 Sekou Odinga was a member of Malcolm X's Organization of Afro-American Unity, a founding member of the New York chapter of the Black Panther Party as well as the Black Panther International Section, and was a member of the NY Panther 21. A citizen of the Republic of New Afrika and combatant of the Black Liberation Army, Sekou was captured in October 1981, mercilessly tortured, and spent the following thirty-three years behind bars—a prisoner of war and political prisoner of the U.S. empire. Since his release in November 2014, he has remained a stalwart fighter for justice and for the release of all political prisoners.
Dhoruba Bin Wahad was a leading member of the New York Black Panther Party, a Field Secretary of the BPP responsible for organizing chapters throughout the East Coast, and a member of the Panther 21. Arrested in June 1971, he was framed as part of the illegal FBI Counter Intelligence Program (COINTELPRO) and subjected to unfair treatment and torture during his nineteen years in prison. During Dhoruba's incarceration, litigation on his behalf produced over 300,000 pages of COINTELPRO documentation, and upon release in 1990 he was able to bring a successful lawsuit against the New York Department of Corrections for their criminal activities. Living in both Ghana and the U.S., Dhoruba continues to write and work promoting Pan Africanism, an uncompromising critique of imperialism and capitalism, and freedom for all political prisoners.
déqui kioni-sadiki is the chair of the Malcolm X Commemoration Committee and was a leader of the Sekou Odinga Defense Committee, which waged a successful campaign for the release of her husband. A tireless coalition-builder and organizer, dequi is a radio producer of the weekly show "Where We Live" on WBAI-Radio, Pacifica; an educator with the NYC Department of Education; and a member of the Jericho Movement to Free All Political Prisoners.
Jamal Joseph is a writer, director, producer, poet, activist, and educator. Joseph was a member of the Black Panther Party and the Black Liberation Army. He was prosecuted as one of the Panther 21. Joseph earned his BA from the University of Kansas while at Leavenworth. He is a full professor and former chair of Columbia University's Graduate Film Division and the artistic director of the New Heritage Theatre Group in Harlem. He is the author of a biography on Tupac Shakur, Tupac Shakur Legacy and his own autobiography, Panther Baby.
Moderator
T. J. Whitaker is a veteran educator of 15 years in the Maplewood/South Orange School District where he teaches English. In addition to coaching girls basketball, he advises several student clubs including the Black Students Union (BSU), MAC Scholars, and MAPSO Freedom School. T. J. is a Prentiss Charney Fellow and is co-coordinating the second annual Model Gary Student Convention.
Hosted by MapSo Freedom School