Amid music festivals and moon landings, the tumultuous year of 1969 included an infamous case in the annals of criminal justice and Black liberation: the New York City Black Panther 21. Though some among the group had hardly even met one another, the 21 were rounded up by the FBI and New York Police Department in an attempt to disrupt and destroy the organization that was attracting young people around the world.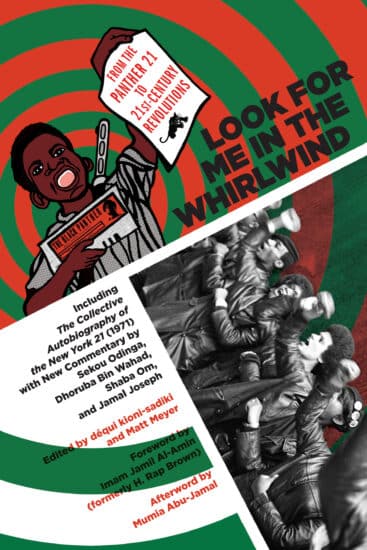 Involving charges of conspiracy to commit violent acts, the Panther 21 trial — the longest and most expensive in New York history — revealed the illegal government activities which led to exile, imprisonment on false charges, and assassination of Black liberation leaders. Solidarity for the 21 also extended well beyond "movement" circles and included mainstream publication of their autobiography, Look for Me in the Whirlwind, which is reprinted here for the first time.
Look for Me in the Whirlwind: From the Panther 21 to 21st-Century Revolutions contains the entire original manuscript and includes new commentary from surviving members of the 21: Sekou Odinga, Dhoruba Bin Wahad, Jamal Joseph, Shaba Om, and Sundiata Acoli. Still-imprisoned Imam Jamil Al-Amin and Mumia Abu-Jamal contribute new essays, as well. Never or rarely seen poetry and prose from Panther 21 defendants Afeni Shakur, Kuwasi Balagoon, Ali Bey Hassan, and Michael "Cetewayo" Tabor is included.
This book — with archival photos from David Fenton, Stephen Shames, and the private collections of the authors — provides essential parts of a hidden history. Going well beyond the familiar and mythologized nostalgic Panther narrative, From the Panther 21 to 21st-Century Revolutions explains how and why the Panther legacy is still relevant and vital today. [Adapted from publisher's description.]
ISBN: 9781629633893 | PM Press