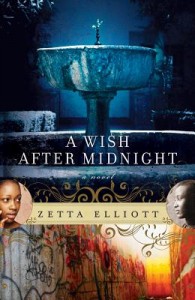 Genna is a fifteen-year-old girl who wants out of her tough Brooklyn neighborhood. But she gets more than she bargained for when a wish gone awry transports her back in time. Facing the perilous realities of Civil War-era Brooklyn, Genna must use all her wits to survive.
In the tradition of Octavia Butler's Kindred and Madeleine L'Engle's A Wrinkle in Time, A Wish After Midnight is the affecting and inspiring tale of a fearless young woman's fight to hold on to her individuality and her humanity in two different worlds. [Publisher's description.]
We also recommend the sequel, released in 2016, The Door at the Crossroads.
ISBN: 978098255505
About the Author
Zetta Elliott was born and raised outside of Toronto, Canada, and has lived and taught in Brooklyn for over ten years. An educator and a writer, Elliott has published numerous works of poetry, plays, essays, and children's books, including Bird, her critically acclaimed picture book, which was released in 2008.