My unit on the largely unknown history of the internment of Japanese Latin Americans began 12 years ago. I was on a bus from Portland, Ore., to Tule Lake, Calif., site of one of the largest Japanese American incarceration camps during World War II. "I am from Japan," the elder sitting next to me said in Japanese. "But I am originally from Peru." For me, it was an honorable coincidence to find myself next to this elder.
An elder sitting in front of us turned around and said in English, "He looks very familiar." As I translated their conversation, it came out that they were both young boys interned at Tule Lake. "I know him!" said the Japanese American elder. "He was my friend!" Grabbing the Peruvian man's hand and shaking it firmly, he explained that they played baseball together often but that one day his friend just disappeared. His friend had only spoken Spanish, so he could never ask him what he was doing in the camp. He had wondered all of these years what had happened to him. The Peruvian Japanese elder's face beamed with joy as the two continued to shake hands, not letting go. "I am so glad you are safe," he said. They had reunited after more than 50 years.
---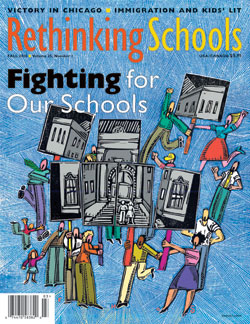 This lesson was published in the Fall 2010 issue of Rethinking Schools magazine, "Fighting For Our Schools." For more articles and lessons like "The Other Internment: Teaching the Hidden Story of Japanese Latin Americans During WWII," order Rethinking Schools magazine "Fighting For Our Schools." See Table of Contents.
---
See Related Resources on Asian American history.