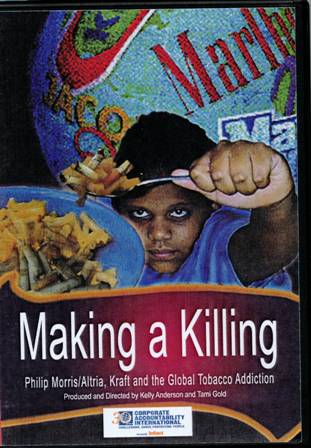 This half-hour film shows how the tobacco giant uses its political power, size and marketing skill to spread tobacco addiction internationally, leaving in its wake a trail of death and disease. The documentary was made by award-winning filmmakers Kelly Anderson and Tami Gold, and produced by Corporate Accountability International, the executive producer of Academy Award winner Deadly Deception.
Making a Killing uses once-secret corporate documents to show Philip Morris/Altria's role in the tobacco industry's deceptive and deadly history. The documentary shows how the corporation hooks children on tobacco and interferes with government attempts to protect public health. It exposes the aggressive advertising and promotional tactics Philip Morris/Altria uses, including footage of cigarette giveaways the corporation claimed to have stopped. Making a Killing also examines how Philip Morris/Altria used its Kraft Foods subsidiary to influence media coverage and to gain political leverage in its fight against public health regulation, and how consumers pressured the corporation through the Kraft Boycott. This hard-hitting documentary serves as a call to join the growing grassroots movement to counter corporate power and save lives.
While dated, it can be used to discuss other corporate campaigns to promote unsafe products, such as vaping.
Watch Online

View the film online at Archive.org.
Produced by Corporate Accountability International.