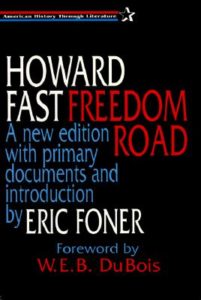 This edition restores to print Howard Fast's great historical novel about the Reconstruction period in U.S. history. First published in 1944, the book has sold millions of copies worldwide and has been translated into more than two dozen languages.
Included is a foreword by W. E. B. Du Bois and a new introduction by Eric Foner. This edition also contains primary source documents from the Reconstruction period. [Publisher's description.]
A historical novel that vividly brings alive the experiences of people freed from slavery after the Civil War.
Review
"Howard Fast makes superb use of his material. . . . Aside from its social and historical implications, Freedom Road is a high-geared story, told with that peculiar dramatic intensity of which Fast is a master."  — Chicago Daily News
ISBN: 9781563244407 | M.E. Sharpe
---
Learn more in the Zinn Education Project national report, "Erasing the Black Freedom Struggle: How State Standards Fail to Teach the Truth About Reconstruction," and find teaching resources on Reconstruction below.