Freedom on the Move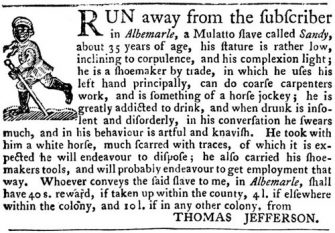 is a digital archive and crowdsourcing project that provides access to information, through thousands of print advertisements, about freedom-seekers and their would-be enslavers in the 18th and 19th centuries. The managing scholars explain:
With the advent of newspapers in the American colonies, enslavers posted "runaway ads" to try to locate fugitives. Additionally, jailers posted ads describing people they had apprehended in search of the enslavers who claimed the fugitives as property.
Created to control the movement of enslaved people, the ads ultimately preserved the details of individual lives — their personality, appearance, and life story. Taken collectively, the ads constitute a detailed, concise, and rare source of information about the experiences of enslaved people.
Freedom on the Move will serve as a research aid, a pedagogical tool, and a resource for genealogists. Scholars, students, and citizen historians will be able to use the data produced from the ads in new and creative ways.
Many of the primary source digitized ads are not yet transcribed. The public, including students, are invited to participate in the Freedom on the Move project by typing up the text advertisements at the website and completing data entry on its platform.