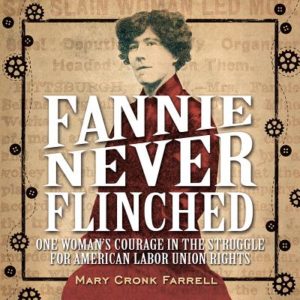 This beautiful book about early 20th-century labor organizer Fannie Sellins begins with her murder on August 26, 1919 by sheriff's deputies, in broad daylight, at the age of 47. No one is prosecuted. Mary Cronk Farrell then jumps back 20 years to trace Sellins' life organizing garment and mine workers.
Full of photos and primary documents, Fannie Never Flinched puts Sellins' story in the context of the struggles of workers and the labor movement during the "Gilded Age." As Farrell, a skilled and engaging nonfiction writer, explains in the author's note, during the research for the book she realized that the murder of Sellins is part of a much larger pattern of violence against working people. [Review by Rethinking Schools.]
Fannie Sellins (1872-1919) lived during the Gilded Age of American Industrialization, when the Carnegies and Morgans wore jewels while their laborers wore rags. Fannie dreamed that America could achieve its ideals of equality and justice for all, and she sacrificed her life to help that dream come true. Fannie became a union activist, helping to create St. Louis, Missouri, Local 67 of the United Garment Workers of America.
In 1913, she moved to begin work for the mine workers union in West Virginia. She traveled the nation and eventually gave her life, calling for fair wages and decent working and living conditions for workers in both the garment and mining industries. [Publisher's description.]
ISBN: 9781419718847  | Abram Books