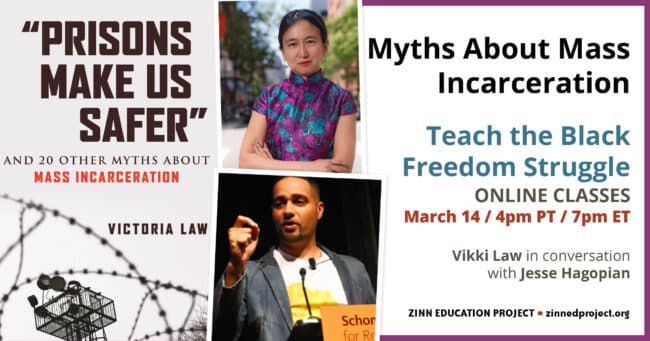 On March 14, the Zinn Education Project hosted journalist Vikki Law in conversation with Jesse Hagopian about how to respond and #TeachTruth about incarceration. As Hagopian said of Law's recent book, "Prisons Make Us Safer": And 20 Other Myths about Mass Incarceration is an essential resource for clearing away master narratives about imprisonment in our society. She not only takes on the distortions of the right, but challenges progressives to think more deeply about the root causes and outcomes of mass incarceration."
Here are a few reactions from participants:
As an organizer this helped me break down how to make a case for something other than the carceral systems we have now. Law did a good job covering the gamut of arguments/myths for the current system. Law also used really accessible languages and examples/metaphors that can be cited in educational materials for the general public.
Thank you for the great conversation, your presentation made teaching about such a complex issue feel much more doable.
Great format — I really appreciated Dr. Theoharis' introduction of Victoria Law and Jesse's thoughtful questions.  The chat today also had really amazing resources shared!
I really appreciated the conversational approach and the hosts made the conversation feel very comfortable and welcoming. There was a sense of community, which I really appreciated, especially since this was my first session. I was hesitant about the breakout groups, but it was nice to hear from others (who weren't necessarily teachers). I liked that the chat box was used as a way for audience members to engage. I can't really think of anything that didn't work.
Highlights
Here are some main points of the session from the tweet thread by Ursula Wolfe-Rocca, high school teacher and Zinn Education Project team member.
Law: When we look at women & LGBTQ people, we expand our understanding of the structural forces that push people into jails & prisons. Not just policing by folks w/ handcuffs, but also by schools, health clinics, legislators. She mentions recent heinous anti-trans legislation.

— Ursula Wolfe-Rocca (@LadyOfSardines) March 14, 2022
Law: Teach about hunger strikes, letter writing campaigns, petitions! (If prison resistance is taught, folks usually focus on riots & violence, but we should teach about ALL the varied forms of resistance.) Some of the examples can be found ⬇️. https://t.co/tNe8cBJhgB

— Ursula Wolfe-Rocca (@LadyOfSardines) March 15, 2022
Video
Video of the full event, except the breakout sessions.

---
Resources
Here are many of the lessons, books, articles, and more recommended by the presenters and also by participants.
Lessons and Curricula
Teaching for Black Lives

edited by Dyan Watson, Jesse Hagopian, Wayne Au, published by Rethinking Schools.

The book includes a section on "Discipline, the Schools-to-Prison Pipeline, and Mass Incarceration." One of the readings in that section is "Haniyah's Story."
Books
Articles
Film
This Day In History
Additional Resources
Mother's Day: A Campaign for Peace

and

Black Mama's Bail Out


These organizations r

aise funds to

bail out as many mothers and caregivers as possible on Mother's Day.

LGBT Books to Prisoners
A trans-affirming, racial justice-focused, prison abolitionist project sending books to incarcerated LGBTQ-identified people across the United States.

Free Minds Book Club & Writing Workshop
Uses the literary arts, workforce development, and violence prevention to connect incarcerated and formerly incarcerated youths and adults to their voices, their purpose, and the wider community.

Certain Days: Freedom for Political Prisoners Calendar
A fundraising and educational project, with abolition-related artwork, essays, and radical dates.

Freedom on the Move: Rediscovering The Stories Of Self-Liberating People
A database of fugitives from slavery.

Restorative Response Baltimore's "World Without Prisons" Shirt
A t-shirt designed by Kim Loper with OSI Baltimore's Restorative Response Baltimore, available on Etsy. (This is the shirt Jesse Hagopian was wearing during the class with Vikki Law.)

Restorative Justice for Oakland Youth
Interrupts cycles of violence and incarceration by promoting restorative justice practices and policies in schools, communities, and the juvenile justice system.
Participant Reflections
What was the most important thing (story, idea) you learned today?
The process of rethinking the prison system and how we can move towards demystifying what incarcerated people experience, especially women.
The safest communities don't have more cops. They have more resources.
"Shame isolates — storytelling connects."
The reminder about the role of women in prison resistance/organizing and how often overlooked they are in the research and conversation about incarceration.
I learned that there must be an alternative to either arresting or doing nothing when an individual commits a crime. Also, how some schools resemble prisons — which is another indicator of the school-to-prison pipeline. I learned that there must be space to process for students of incarcerated parents/caregivers and a space where they can honor them in some fashion. Therefore, beginning to process the intergenerational pain, shame, and stigma of incarceration.
How there are so many systems that work together to keep class and race as those in power want them to be.
The system is not broken, it is working as intended.
Hearing from individuals affected directly and indirectly how important it is for educators to help them tell their stories. Stories connect/shame of incarceration isolates
To give children a space to talk about people they love who are incarcerated. That there are people just waiting for trial who can't afford bail. 
The impact incarcerating women has on each woman's family and community and how women are not adequately counted or represented in information reported on incarceration.
What will you do with what you learned?
Continue to fight for police-free schools.
Share with our K-5 librarian.
Share ideas with my school on how we can support students and families who have members who may be incarcerated. Share on social media organizations and the Mother's Day Bailout. 
I used Jeanne's book in classes I taught in prison while incarcerated
I have saved the book list from Social Justice Books and will try to buy a few to incorporate in my library. As the interventionist for Kindergarten in my building, I have a different relationship with students than classroom teachers — I think that I have a better chance of being able to have conversations with students about incarceration.
Framing myths vs realities in reaching and teaching students, especially those most at risk for school-to-prison-pipeline prevention.
I want to get more books in my classroom about incarcerated family members to help my students feel safer and included in our classroom.
I plan on buying the book and reading it. I envision creating a unit or mini-unit on modern forms of oppression and using mass incarceration as my example. I am thinking of giving the students a list of the myths to reflect on what they think about it, if they agree or disagree with it. This can then turn into a 4 corners activity. I would use excerpts from her book, as well as some of the children's books that were shared, and video clips that were shared by fellow educators and advocates as ways for students to learn more. I saw that Vikki Law also created a zine. I have been wanting my students to create a zine as well and was thinking of having students create their own using what we do in this unit.
I volunteer as an organizer, against white supremacy and mass incarceration and I will use this insight to agitate, educate, mobilize the people that I recruit and organize with.
Please comment on the format. What worked, and what didn't?
I enjoyed the breakout room time to reflect and share ideas.
Love these sessions!  Participants self-select as highly motivated, deeply caring educators.
Using the variety of the sessions engages people in many ways. I appreciate it.
I thought it was going to be a webinar, so I was pleasantly surprised when I showed up and could see all the other participants' faces. I think learning in a community like this is much more powerful than just watching a few panelists speak. I appreciated the breakout room space to share my thoughts and hear from a few other participants.
Presenters
Victoria Law is a journalist who researches and writes about incarceration, gender, and resistance. She is the author of "Prisons Make Us Safer" and 20 Other Myths About Mass Incarceration, Resistance Behind Bars: The Struggles of Incarcerated Women, and the co-author of Prison by Any Other Name. Law is a co-founder of Books Through Bars–NYC and editor of the zine Tenacious: Art and Writings by Women in Prison.
Jesse Hagopian teaches Ethnic Studies and is the co-adviser to the Black Student Union at Garfield High School in Seattle. He is an editor for Rethinking Schools, the co-editor of Teaching for Black Lives, and editor of More Than a Score: The New Uprising Against High-Stakes Testing.