Young people are taking on immense and interconnected challenges in the world — racism, war, gun violence, climate change, voter suppression, and more. In response, the right is passing laws in almost every state to squash that activism by censoring lessons about oppression and resistance.
The goal of the "anti-CRT" project is to strip the classroom of its potential as a powerful democratic space, where students learn from history how to shape a more just future.
Meanwhile, the media has given the "anti-CRT" campaign oversized coverage.
What Can We Do?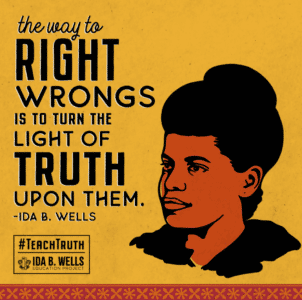 We need to expose the right's agenda and be visible in our defense of teaching people's history.
Don't let the right control the narrative.
We ask EVERYONE (including YOU) reading this news post take a public stand in defense of #TeachTruth.
Pay Attention to School Board Elections
Turn up for school board races. Each vote truly makes a difference. Across the country, the statewide anti-history education attacks on teachers and students have been joined by a concerted, Koch funded effort to take over school boards.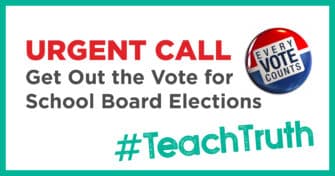 Those of us who know the importance of truth-telling in schools do not have the massive funding that the right receives. However, we do have the numbers. We need to put those numbers into action in defense of teachers and in defense of young people learning from history to shape a better future. Turn out to vote, testify, and consider running for school board. Read more.
Make Your #TeachTruth Support Visible
Print a sign or make your own and get a photo in front of a historic site. The site can be a historic marker, statue, archive, burial ground, or museum. Or perhaps you know of a site not identified at all. History is everywhere.
All You Need: Sign, Historic Site, and a Photo
History is being made every day. If you are going to a rally on any issue, bring a #TeachTruth sign with you and take a photo there. The ability to consider real solutions to a range of issues, from gun violence to voting rights, is curtailed when those topics are silenced in the curriculum.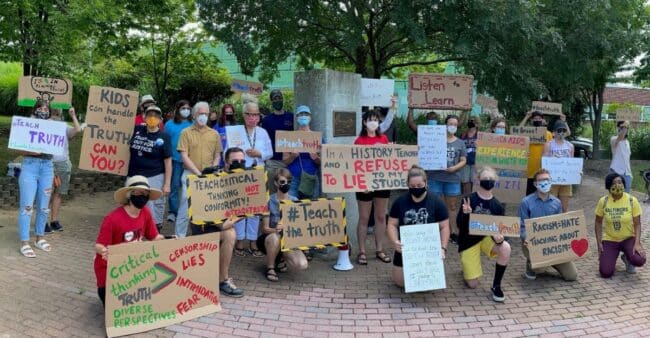 Go on your own or with friends or family. Brings signs or make a #TeachTruth photo booth frame like the one below!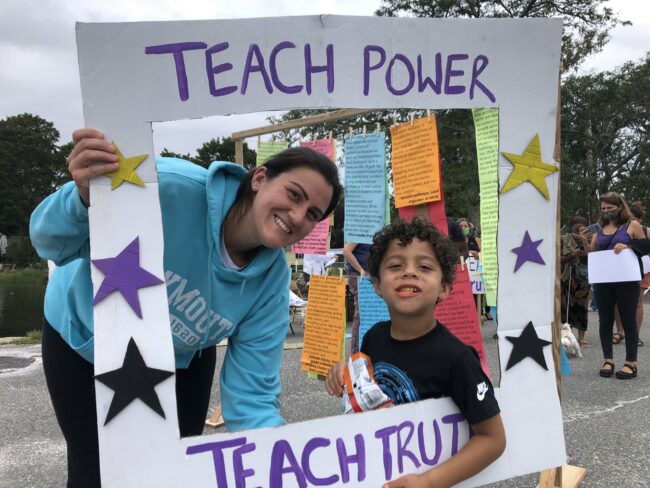 It is as simple as:
Pick a site that should be taught — it can pertain to history, voting, climate, housing, LGBTQ+ rights, etc.
Gather with family, friends, and/or students students to "teach truth."
Take a photo with a sign (one of these or make your own).
Share on social media with #TeachTruth and/or email to zep@zinnedproject.org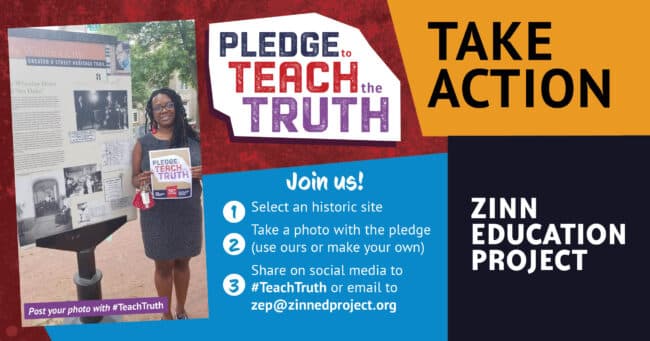 Why a Historic Site?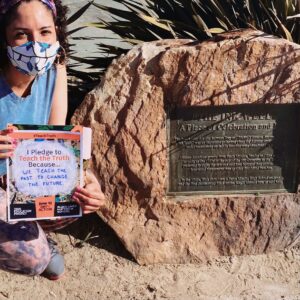 Many of the laws single out "critical race theory" as the curricular bogeyman. Whatever the particular terminology used in each state, they are united in their larger political goal: to rob children of access to a usable past, an account of history that helps them fully see and understand their present.
By selecting a historic site, you make visible the history that teachers are required to lie about or omit where these bills become law. Expose the true impact of this legislation.
What If I Am Not a Teacher?
Students and others can pledge to defend the right to teach history. The anti-history laws are an attack on democracy, for everyone. Your voice will amplify the campaign and offer support to teachers when they need it most.
How Else Can I Make a Statement?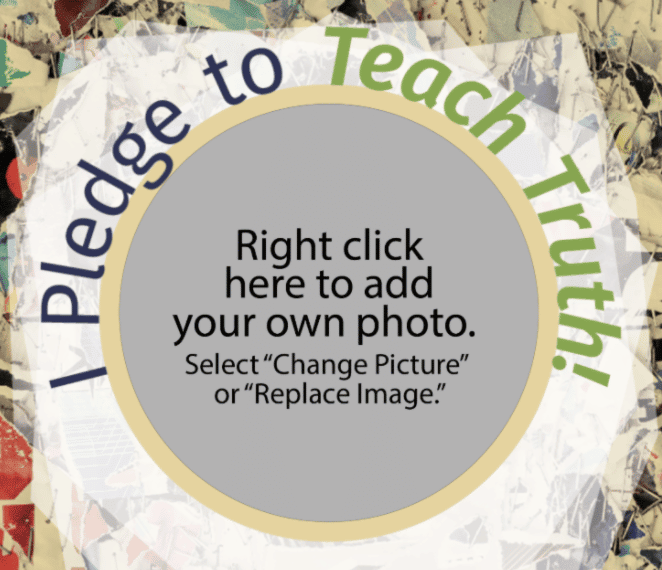 Change your profile picture to show up in solidarity!
Download the graphic and add your photo.
What is #TeachTruth?
The term #TeachTruth defies the right's laws dictating a white supremacist narrative about the history of the United States.
Our goal is instead to invite students' whole selves into our classrooms, to celebrate our varied humanity, to understand the meaning of our differences, and to imagine together how we might change the world.
See some examples of those lessons in our Teach Truth Syllabus.