In the face of Georgia's HB 1084 Protect Students First Act, often referred to as the "divisive concepts" act, many teachers are being told to avoid teaching about race, gender, class, climate change, and other topics.
Fifth grade Georgia teacher, Katie Rinderle, has been terminated for reading My Shadow Is Purple to her students, a book she purchased at her school's Scholastic book fair. While she is the first known Georgia public school teacher to be terminated under what is called the "trio of censorship" laws passed in 2022, the law is impacting classrooms around the state. Rinderle is working with her union, the Georgia Association of Educators, to fight this unjust termination.
Education censorship is a disservice to young people who need to be informed in order to be responsible community members and voters. When students come to school with questions about what they hear on the news, schools should be a place where that interest or concern is nurtured.
Teachers can encourage that love of learning. They can point young people to a variety of sources and suggest they read and form their own opinion. But this cannot happen if there is a culture of fear that leads teachers to discourage conversations and inquiry.
"Protect students first" should mean protecting students' right to learn and to think for themselves. Reading is one way to see oneself in history, to learn about others, and to consider ways to shape a more just and joyful future.
Statewide Read-Aloud: Sign Up Today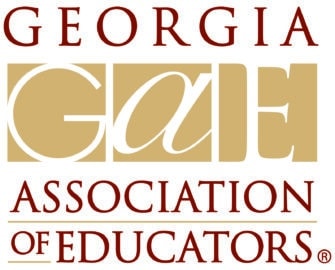 To start the school year with a defense of the freedom to learn, there is a read-aloud activity scheduled in Georgia.
Make the commitment to learning and to all students visible. Educators will not hide in the shadows!

The event is co-sponsored by the Georgia Association of Educators.
August: Back-to-School Read-Aloud
Georgia teachers, school librarians, and other school staff are invited to read and discuss
My Shadow Is Purple
or another title from the list below, sometime during the first two weeks of school. The list includes titles on topics that are considered off limits by the "divisive concepts" law. Teachers who agree to participate receive a free book.
Sign up here
.
Read-Aloud Books
You can select any one of these children's books. Or indicate that you will use a book that you already have. The books are provided at no cost to teachers thanks to support from the Southern Poverty Law Center (SPLC).
| | | | |
| --- | --- | --- | --- |
| | My Shadow Is Purple | By Scott Stuart | A young boy considers whether his shadow is blue like his father's, pink like his mother's, or if there is another choice beyond the gender binary. |
| | My Shadow Is Pink | By Scott Stuart | Inspired by the author's own little boy, this rhyming story touches on the subjects of gender identity, self acceptance, equality, and diversity. |
Bodies Are Cool
By Tyler Feder

A cheerful love-your-body picture book for preschoolers.

Note: not available, temporarily out of print

I Am Ruby Bridges
By Ruby Bridges
Illustrated by Nikkolas Smith
Ruby Bridges' infamous story in her own words.
Man Up!

By Riley Campbell and London Jones
Illustrated by Joy Ingram
How a child and his older brother get friends and family to realize that boys can express feelings and be sensitive, despite pressures to "man up."
Milo's Museum
By Zetta Elliott Illustrated by Purple Wong
A story that introduces readers to the mis-representation (and absence) of people of color in museums and how to take action, in collaboration with family and friends.
My Brother Is Away
By Sara Greenwood
Illustrated by Luisa Uribe
A young girl has a range of emotions as she thinks about her brother who is incarcerated.
One
By Kathryn Otoshi
An engaging story for very young children based on colors and numbers about "blue, a quiet color," who gets bullied by "hot head red." Readers learn there is power in numbers.
Our Skin: A First Conversation About Race
By Megan Madison and Jessica Ralli
Illustrated by Isabel Roxas
A board book to facilitate developmentally appropriate conversations with young children about race and racism. Includes guidance for adults on why and how to have those conversations.
Rise Up and Write It
By Nandini Ahuja
Illustrated by Anoosha Syed
A young girl learns about civic engagement as she advocates for a safe habitat for butterflies. The book includes pull-out examples of activism tools.
Say Something
By Peggy Moss
Illustrated by Lea Lyon
Through the story of a young girl observing incidents in and around school, readers learn that being a bystander is not enough, you need to speak up to challenge injustice.
Separate Is Never Equal
By Duncan Tonatiuh
The true story of the Mendez family, who fought to end segregation in California schools seven years before Brown v. Board of Education.
Stacey's Extraordinary Words
By Stacey Abrams
Illustrated by Kitt Thomas
A childhood story by voting rights advocate Stacey Abrams about lessons from a spelling bee.
That Flag
By Tameka Fryer Brown Illustrated by Nikkolas Smith
Through the story of two young girls, readers learn about the history of the Confederate flag, the myths and the reality. Also highlights the critically important roles of family and a teacher.
We Want to Go to School!: The Fight for Disability Rights
By Maryann Cocca-Leffler and Janine Leffler
The story of seven kids and their families who fought for Mills v. Board of Education of D.C., the court ruling that led to laws ensuring children with disabilities would receive a free, appropriate public education.