The Zinn Education Project's ability to get people's history lessons into the hands of teachers is made possible by donations from individuals like you. Teachers are often the only chance students have to learn a different story. We express our thanks to everyone who donated last year so that we can reach more classrooms in 2017.
Many people sent notes or dedications along with their donations. Here are just a few comments from donors about why they made a contribution. Please add your name to the list.
I am donating in honor of Lynn Brown, the teacher my children had at the King Open School. She first introduced me to Howard Zinn through my children's humanities curriculum. So much was missing or inaccurate in my history curriculum growing up. I've had a lot of catching up to do as an adult. —Janet Malenfant, Cambridge MA
I'm providing support because I owe it to you. I'm a teacher and have found many invaluable lessons and readings on your website. What I love about the Zinn Education Project materials is not only the content, but also the strategies which I can take and use in other contexts. The Zinn Education Project provides material that gives voice to and honors the experience of people who have been marginalized and helps students make meaningful connections between this history and the marginalization that continues to happen in society today. The conversations and insights students gain from your material are invaluable, especially today. The Zinn Education Project is like a breath of fresh air. Thank you for being there for me and my students. —Catherine Raveczky, Boulder, Colorado
The 4,800 educators who make up the Washington Teachers' Union value and respect cultural and racial diversity and support the teaching of all peoples history in our classrooms and schools. —Elizabeth Davis, president, Washington Teachers' Union, Washington, D.C.
I am donating because teaching truth in education is, in my opinion, the most critical component for change, truth and equality in the country. America's long-standing socialization is a biased narrative that gives some folks a false sense of superiority and others a false sense of inferiority. This socialization process has to change and it can only change when we change the false educational narrative. This, I believe is the root of the divisiveness in our country and it will never change as long as our basic narrative is false and racially biased. —Joseph Urbano, Colorado Springs, Colorado
Howard Zinn's A People's History of the United States is most timely as America enters the Trump Era. A People's History makes clear the depth of racism and white nationalism in America's past, thereby linking them to their contemporary appeal. While illuminating the dark side of American history, Howard's work also is timely in giving readers hope by reminding them of the relevance of justice movements throughout U.S. history. A People's History can serve as a resistance primer in 2017 and beyond.  —Wesley Arden Dick, Albion, Michigan
Howard Zinn's life and books inspired me to become a teacher. —Kyle Fannin, Versailles, Kentucky
In honor and memory of Howard Zinn, a great man who took interest in my films and honored us with his memories, thoughts and analysis on-camera in our film The Most Dangerous Man in America: Daniel Ellsberg and the Pentagon Papers. —Rick Goldsmith and Lauren Moreno, Oakland, California
The only way to have a true democracy is to have an informed electorate. Learning and knowing history is necessary to create democracy. Thank you for the important work you do. —Heather Boyd, Drexel Hill, Pennsylvania
I just finished reading You Can't Be Neutral on a Moving Train again and was reminded of why Howard Zinn's work is so essential in these times. Thank you Howard Zinn. —Judi Freeman, Boston, Massachusetts
My donation is dedicated to the memory of Professor Raymond Gavins. —Paul Ortiz, Gainesville, Florida
We also suggest you read our page with comments from educators about the Zinn Education Project.
We will post comments and dedications from donors throughout the year. Add your name and comments with a donation today.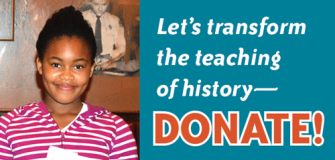 Save