Thanks to the 226 donors who made it possible for the Zinn Education Project to promote the teaching of people's history and register 8,000 more teachers. It's because of individuals like you that the Zinn Education Project reaches tens of thousands of teachers and millions of students each year.
Here are some stories people shared with their donations.
Rosemary Plakas expressed appreciation for her former teachers:
"I dedicate my contribution to my teachers who have encouraged me to think critically and celebrate all good aspects of our past and reveal those incidents that should never be repeated."
Tim Lewis appreciates the power of giving hope and dignity to students by providing a richer understanding of history:
"I teach in a corrections institution and have lent my copy of People's History to many of my students. Some have in turn ordered their own copies and spread the word further. The illumination reaches even the darkest places."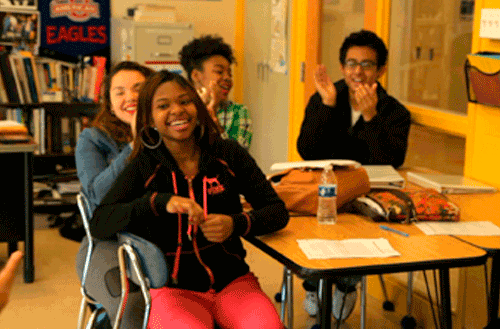 Many offered a note of thanks. Lexine Lajack Mainwaring wrote, "Thank you for all the excellent work you do to educate our people," and Corey Dugan said, "Thank you so much for your awesome work!!" Gail Ostrow wrote, "Your resources are invaluable to me as a teacher of both middle school and college students. Thank you!"
Marsha Jackson likes the daily people's history posts on Facebook. "I am not an educator, but I have learned so much myself from the Zinn Education Project posts on Facebook. This donation is in memory of my long-departed grandfather, Jacob Minkin, who was a labor lawyer for the International Ladies Garment Workers Union (among others)."
In addition to Martha, a number of donors, such as Kipp Dawson, Rhoda Seidler and Bill Fletcher, Jr., chose to honor a family member who made history. Mia Henry wrote of her mother Rugenia Moore Henry, "I feel very lucky to have been raised by my own hero."
Anne Lown's and Jennifer Nathan's donations were made in tribute to teachers. Anne dedicated her donation, "In memory of Steve Shreefter who devoted his life to teaching truth to power." Jennifer wrote, "In honor of my mother Mindy Nathan, high school principal and amazing teacher."
A few donors are known for making people's history, such as lawyer Tom Lesser who defended Abbie Hoffman and 13 college students, including Amy Carter (President Carter's daughter), in 1986 for protesting CIA recruitment at the University of Massachusetts Amherst. Tom wrote, "The Zinn Education Project is a vital force in educating students about the history of the government and this country."
Richard Goldsmith remarked on continuing the legacy of Howard Zinn. "Wonderful work in the spirit of Howard, whom I knew and admired."
Meagan Lasky and Eric White made contributions to our efforts to defend people's history against attacks. They wrote, "We donate in sadness that Indiana is attempting to ban A People's History. Keep fighting the good fight."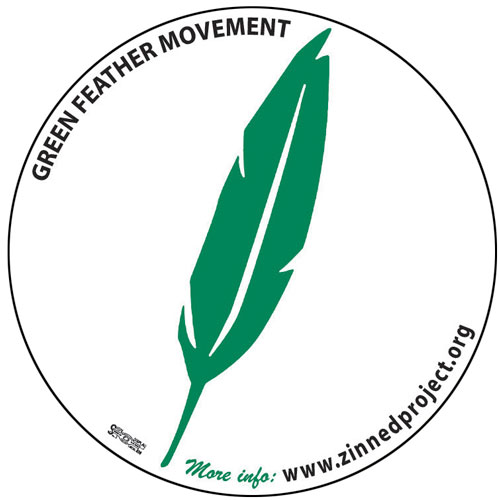 We received a broad range of support for our Green Feather Movement campaign, which commemorated the struggle begun in Indiana in 1953  to protest attempts to ban Robin Hood. Mary Mikesell wrote, "Great way to pass on the truth in teaching," and, Tigerbill and Zoe chimed in with, "Time for the return of the Green Feather!"
Now we are counting on your support for 2014.