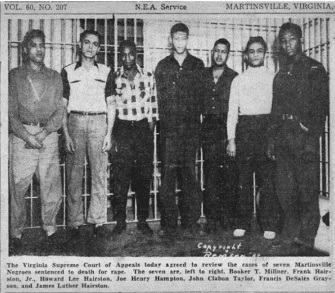 On Feb. 2 and 5, 1951, the Commonwealth of Virginia executed seven Black men. The "Martinsville Seven" — Francis DeSales Grayson, Frank Hairston Jr., Howard Hairston, James Luther Hairston, Joe Henry Hampton, Booker T. Millner, and John Clabon Taylor — were convicted by seven all-white juries of the rape or attempted rape of a white woman and sentenced to death.
According to an article, "Mass Execution Ends Martinsville Case" in the Afro-American on Feb. 10, 1951,
Independent investigation by responsible citizens showed that 'confessions' had been extorted from the men after violent maltreatment by local officials.
In the short time between the convictions and mass executions, the NAACP exhausted the legal avenues for appeal and rallied the nation to protest this injustice. The Martinsville 7 digital resource explains how the NAACP organized on their behalf:
NAACP lawyers argued that the young men were not given fair and impartial trials and that they were tried in a hostile environment. The young men were given unequal sentences, their lawyers said, as death sentences were only meted out to Black men accused of rape. The NAACP and the Civil Rights Congress led an advocacy & media campaign to save the Martinsville 7. The campaign's aim was to show the racial disparities in how these young men were sentenced. . .
Lawyers unsuccessfully attempted to use statistics to challenge the racial disparities in the death sentences of these young men, the first case where this strategy was pursued according to legal experts. In Virginia, only Blacks faced the death penalty for rape or attempted rape as no white man has ever faced execution in Virginia for rape or attempted rape.
The Virginia Supreme Court of Appeals rejected the appeals on behalf of the Martinsville 7 and the U.S. Supreme Court refused to hear the case and rejected appeals to the court without review. 
Cuban poet Nicolás Guillén wrote,
Seven Black voices in Martinsville call seven times to Jesus by name and they ask him in seven cries of rage, like seven lances, they ask in Martinsville, in seven strikes of sulphur, like seven volcanic rocks, they ask seven times for revenge.
In Dec. 2020, a group that included relatives of the men and a former mayor of Richmond asked Governor Northam to issue a posthumous pardon and apologize on behalf of the Commonwealth of Virginia for their unfair trials and executions in February, 1951. The pardons were granted in 2021.
This information is reprinted from from BlackPast.org and the Martinsville Seven website, with the addition of the Guillen poem.