On Easter Monday, April 7, 1760, a group of enslaved Ghanaian people in Jamaica rose up against their British overseers in a violent yet unsuccessful rebellion. Inspired by the First Maroon War that took place in Jamaica decades earlier, the enslaved rebels sought to overthrow the British colonialists and create an independent Black nation on the island.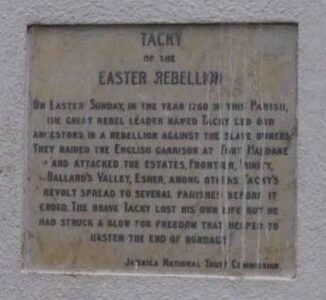 As detailed by BlackPast,
Tacky and his followers began the rebellion by killing white masters and overseers on the Frontier and Trinity plantations. The owner of the Trinity plantation, Zachary Bayly, however, managed to escape. Slaves also rose up on the Esher estate owned by wealthy politician William Beckford and joined in the rebellion.
Hundreds of rebels made their way to the storeroom at Fort Haldane where they killed the storekeeper and captured and defended the town of Port Maria from British colonial forces. Tacky and his troops commandeered nearly four barrels of gunpowder and 40 firearms and then overran the Heywood Hall plantation. By this point more than 400 people had joined Tacky and his followers.
Within the week, British troops and their allies attacked the rebels, wounding and killing their leader, Tacky, leading to the subsequent mass suicide of many of the rebels in a cave near what is now called Tacky Falls.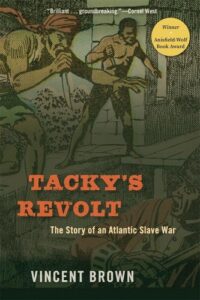 Remaining rebels were captured and executed, though resistance to slavery on the island continued.
According to BlackPast,
Despite Tacky's death and the failure of the rebellion, insurrections continued in Jamaica until slavery was officially ended by the British government in 1834. The cost of these continuing rebellions was a major factor in the British government outlawing slavery throughout the empire. Continue reading.
Learn more about the rebellion and its reverberations in Vincent Brown's award-winning book Tacky's Revolt: The Story of an Atlantic Slave War.