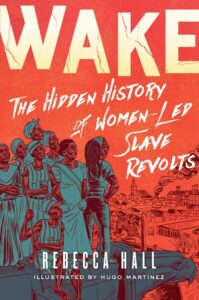 Part graphic novel, part memoir, Wake is an imaginative tour-de-force that tells the story of women-led slave revolts and chronicles scholar Rebecca Hall's efforts to uncover the truth about these women warriors who, until now, have been left out of the historical record.
Women warriors planned and led slave revolts on slave ships during the Middle Passage. They fought their enslavers throughout the Americas. And then they were erased from history.
Wake tells the story of Dr. Rebecca Hall, a historian and granddaughter of enslaved people. The accepted history of slave revolts has always told her that enslaved women took a back seat. But Hall decides to look deeper, and her journey takes her through old court records, slave ship captain's logs, crumbling correspondence, and even the forensic evidence from the bones of enslaved women from the "negro burying ground" uncovered in Manhattan. She finds women warriors everywhere.
Using in-depth archival research and a measured use of historical imagination, Hall constructs the likely pasts of Adono and Alele, women rebels who fought for freedom during the Middle Passage, as well as the stories of women who led slave revolts in Colonial New York. [Publisher's description.]
Teaching Guide
The Ida B. Wells Education Project and Dr. Rebecca Hall developed a high school teaching guide for Wake. It is divided into the following sections: 1. How to read Wake, 2. a discussion guide, 3. primary sources, and 4. a final student project. It is free for anyone to use, just remember to cite the source.
Trailer
Not only a riveting tale of Black women's leadership of slave revolts but an equally dramatic story of the engaged scholarship that enabled its discovery. —Angela Y. Davis, professor emerita, Departments of History of Consciousness and Feminist Studies, UC Santa Cruz
In this beautiful and moving graphic novel, historian Rebecca Hall unearths a history so often overlooked: the significant role Black women played in leading slave revolts. Through Hugo Martinez's vivid graphics, combined with Hall's brilliant insights and powerful storytelling, WAKE transports the reader to a moment in time when a group of Black women set out to overturn the institution of slavery in British North America. Their courageous story, told with remarkable skill and elegance, offers hope and inspiration for us all. —Keisha N. Blain, author of Set the World on Fire: Black Nationalist Women and the Global Struggle for Freedom