On July 18, 1966, protests and riots broke out in Cleveland following years of escalation of racial tension.
The Hough Uprising (also known as the "Hough Riots") erupted in response to a white-owned bar's refusal to serve water to Black patrons. The bar's racist policy began as a means to dissuade Black customers from frequenting the establishment.
The riots continued for five days, leaving four African Americans dead and 50 injured. In total, there were 275 arrests. White authorities argued that the cause of the riots was Black nationalism; however, historians today attribute the riots to poverty and racism.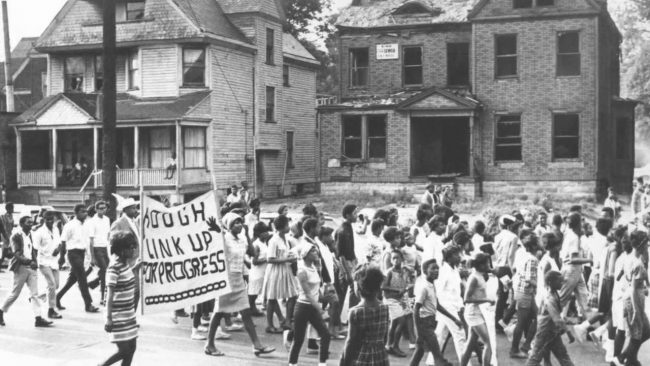 Find more information about the riots, including film clips taken during the uprising and recent scholarship, at Cleveland Memory.
Learn more about how government policies created segregated communities like Hough in Richard Rothstein's The Color of Law: A Forgotten History of How Our Government Segregated America. 
Read more about the time leading up to the riots at Cleveland Memory, a website run by the Michael Schwartz Library at Cleveland State University. This resource offers film clips from the riots, scholarship about the uprising, and articles about Black history in Ohio.