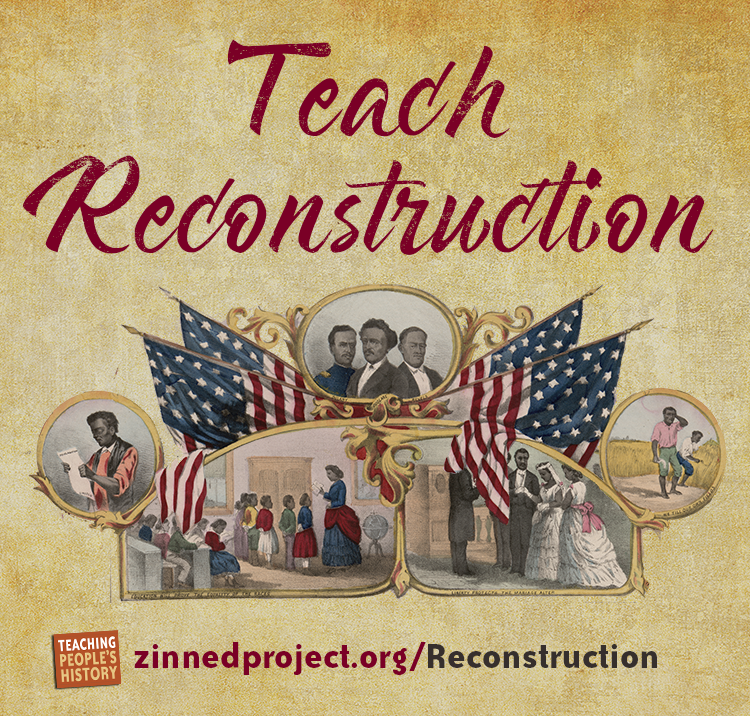 On April 24, close to 100 D.C. area educators filled the Blackburn Center at Howard University for a teach-in on the hidden history and relevance today of Reconstruction. The event was hosted by the Howard University School of Education, Teaching for Change's D.C. Area Educators for Social Justice, and the Zinn Education Project as part of the Zinn Education Project campaign to teach Reconstruction.
Attendees checked in at the exhibit area, where staff from the National Park Service, the Frederick Douglass Home (NPS), the Historical Society of Washington, D.C., and Association for the Study of African American Life and History (ASALH) had tables with resources for bringing Reconstruction history to the classroom.
Thanks to donations by publishers, the first 25 teachers to arrive received a free book from the titles listed below.

School of Education Dean Dawn Williams welcomed the audience, talking about the importance of Reconstruction history and the critical role of teach-ins. [See video of Williams.] Zinn Education Project Organizer and Curriculum Writer Adam Sanchez described the Teach Reconstruction campaign [see video of Sanchez] and introduced the plenary presenters:
| | |
| --- | --- |
| Greg Carr, associate professor of Africana Studies and chair of the Department of Afro-American Studies, Howard University. See video of Carr from opening plenary. | Paul Gardullo, museum curator and director of the Center for the Study of Global Slavery, National Museum of African American History and Culture (NMAAHC). See video of Gardullo from opening plenary. |
| James W. Loewen, author, Lies My Teacher Told Me, Five Myths About Reconstruction, and more. See video of Loewen from opening plenary. | Turkiya Lowe, chief historian, National Park Service. See video of Lowe from opening plenary. |
Following the plenary session, educators chose from among these four concurrent sessions:
Reconstructing the South, A Role Play
Adam Sanchez, organizer and curriculum writer, Zinn Education Project
What kind of country is this going to be? This was the urgent question posed in the period immediately following the U.S. Civil War. This role play asks participants to imagine themselves as people who were formerly enslaved and to wrestle with a number of issues about what they needed to ensure genuine "freedom."
How Do You Reconstruct a Nation?
Dawn Chitty, education director, African American Civil War Museum (AACWM)
In this session, participants use contextual documents to understand the challenges and successes of Reconstruction in the American South. Could a country really be brought back together or would the divisions of the war last well into the future?
When the Impossible Suddenly Became Possible: Reconstruction Meet and Greet
Faye Colon and Nqobile Mthethwa, Zinn Education Project
After the Civil War, social movements such as the abolition movement, women's suffrage, and labor movement attempted to form coalitions. In this interactive classroom lesson, students step into the shoes of Henry Highland Garnet, William Sylvis, Lydia Maria Childs, Frances Harper, and many more who were involved in these movements. Through the lesson, students gain an understanding of what was bringing them together after the Civil War and what ultimately kept them apart.
The Hidden History of Reconstruction
Jim Loewen and Greg Carr
Scholars Jim Loewen and Greg Carr talk about the hidden history of Reconstruction and why it matters today.
Here are a few of the comments from the participant evaluations:
Very exciting to get a glimpse of how this work could change education and racism in the United States, especially in the context of Dr. Carr's questions about who are we to one another, and Reconstruction as the "what if" moment, i.e. who we might be, where might we still go?
I feel empowered and courageous enough to let real history — actors, people, places, artifacts — guide my lessons and believe that learning and mastery will happen.
I learned about differences and alliances between those working in the women's movement, abolitionist movement, and labor movement.
All of the parts of the teach-in were great. Reconstruction is under taught and needs to be focused on more!
I loved the chance to learn from other educators, do my own thinking, and analysis. Learned some new things.
My students could definitely do more analysis of pictures, even at the pre-kindergarten level.
An incredibly valuable learning experience about a topic of which I have only minimal knowledge. Inspired me to think about how I might shape a learning community in the classroom among teachers.
This just whetted my appetite for more! Would it be possible to do an entire daylong symposium on Reconstruction using the resources of Washington, D.C.? Howard, U.S. African American Civil War Museum, National Archives, etc.
I wish I could have gone to all the sessions. We need an all day event on Saturday.
I'd love a full-day teach-in! This was awesome, and I want more.
---
Did you miss the teach-in? You can still participate in the #TeachReconstruction campaign and engage your students in a project to Make Reconstruction History Visible. You can also apply to host a workshop on teaching about Reconstruction in your school district.