For many of us, toasting in the New Year on January 1st will be more about relief and grief than about celebration. Relief that 2020 is finally at its official end; grief for those killed by COVID, state violence, or lost to an economic system that keeps people poor.
January 20th also beckons, promising to close a chapter on the depravities of the Trump presidency. But, the inauguration will be more symbolic than substantial. The Biden administration will not author the transformational policies that can bring us closer to a just society, without enormous organized grassroots pressure.
People's Movements Require People's History
U.S. history reveals both the roots of our cruel status quo and its possible antidote. Young people deserve an education that helps them understand how and why we are in this wretched mess, but never leaves them hopeless.
We need your help
to bring people's history to students in 2021.
Zinn Education Project teaching materials guide students toward deeper understandings of problems too often portrayed as intractable and even natural: racism, inequality, the climate emergency. See lessons such as,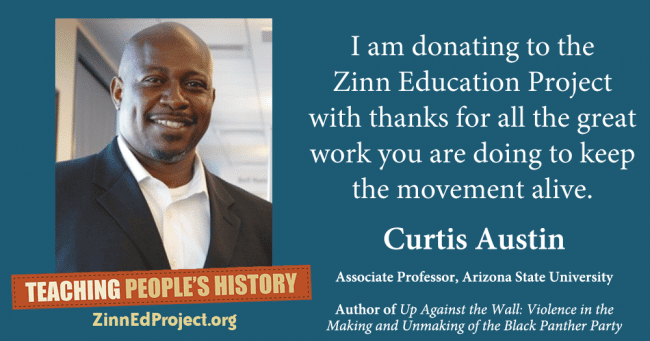 ---
Zinn Education Project Lessons Emphasize New Possibilities
Howard Zinn argued that people's history should "emphasize new possibilities by disclosing those hidden episodes of the past when, even if in brief flashes, people showed their ability to resist, to join together, occasionally to win." That aspiration weaves through all our lessons, such as:
Support Teaching People's History
Help us continue to provide free access to these lessons so that they will be widely used by teachers.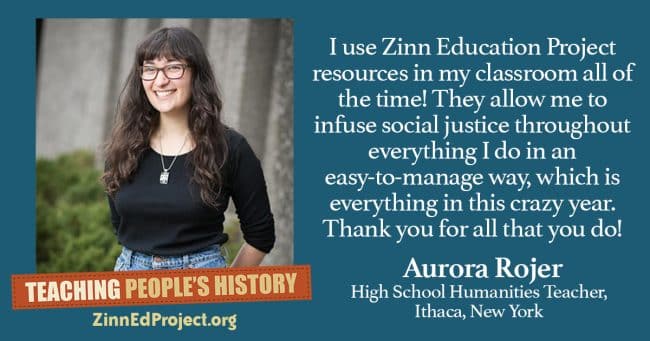 Students need the knowledge to hold this new administration accountable to the promises it made — and more. Please donate.