Here are three opportunities for Georgia teachers and students.
Saturday, June 10 at Stone Mountain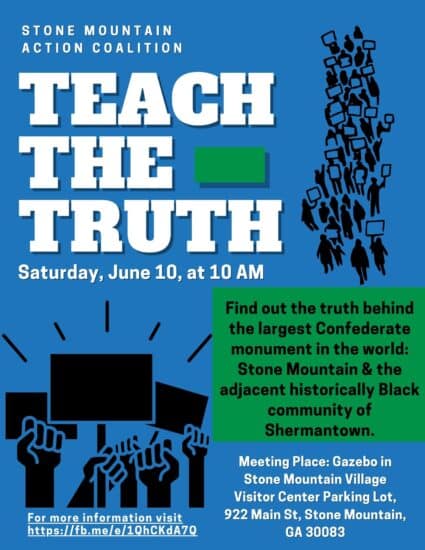 Join the Stone Mountain Action Coalition and the Zinn Education Project on Saturday, June 10 for a discussion and truth-telling walk at Stone Mountain.
Participate in a read-aloud of That Flag, a powerful picture book about the Confederate flag by Tameka Fryer Brown and illustrated by Nikkolas Smith. Ten teachers will take a copy of That Flag home to share with their students.
This is one of dozens of events taking place around the United States for the Teach Truth Day of Action.
Not near Atlanta? Add YOUR city to the map.
Sign up to host a Teach Truth Day of Action on June 10.
---
June 5 – 9 for Students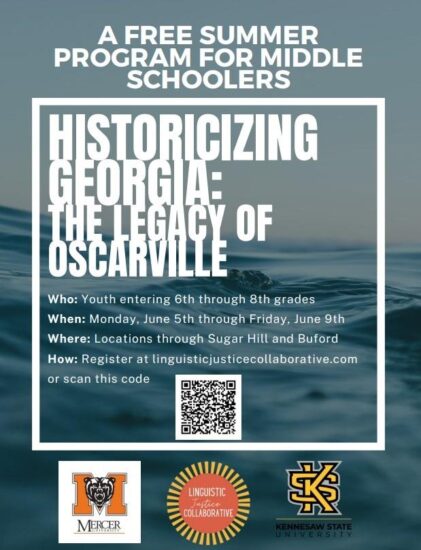 June 5 – 9 | 6th – 8th grade
Led by Dr. Kristie Smith, Assistant Professor of English/Language Arts Education at Kennesaw State University and Mercer alumni, this youth participatory action research project (YPAR) will recruit a small group of adolescents, educators, and community members from the Sugar Hill Buford area to trace Georgia's history, geographic places, and racial identities.
This will be guided by youth co-researchers, and may include creating podcasts or open access digital archives; adding to existing history center and museum displays; or drafting a policy paper for the city government. Daily locations will vary and will include various historical sites, museums, and community organizations throughout the Sugar Hill and Buford areas. Interested students must be in 6th–8th grade and should sign up here.
---
July 10 – 15 for Students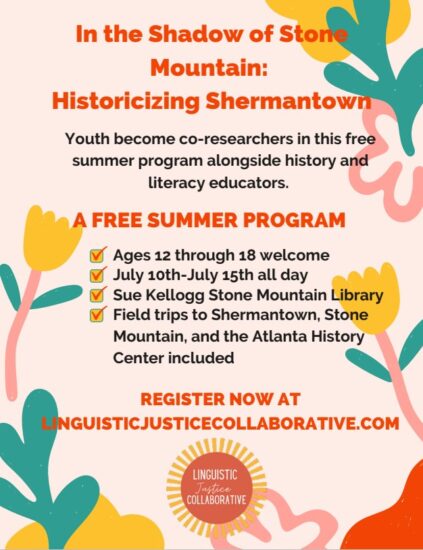 July 10 – 15 | Ages 12 – 18
In the Shadow of Stone Mountain: Historicizing Shermantown (July 10–15) is a free summer program for 12–18-year-olds at the Sue Kellogg Stone Mountain Public Library in which participants will investigate the stories, voices, and community histories of Shermantown, an African American community within Stone Mountain Village.
Standing in the shadow of the world's largest Confederate monument, Shermantown citizens have used a variety of tactics to thrive despite threats to their community's safety. Participants will become co-researchers. That also means figuring out how to share this information such as filming a documentary, recording a podcast, or offering guided community tours.
Interested students should fill out this form.